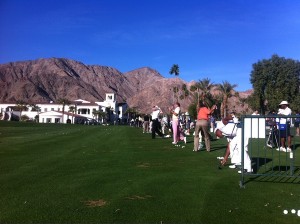 Breaking news out of Abu Dhabi. Three time major golf champion Padraig Harrington has been disqualified from the HSBC golf championship.  This is the second time in the last three weeks, Camilo Villegas in Hawaii, that a professional golfer has been DQ'd for a rules violation.  And here's the kicker, in both cases the players themselves did not realize that they had committed the infraction but were rather "tattled on" by a television viewer.
Obviously, we could argue for days about whether it is a fair system that allows for fans at home to call/email officials and alert them to apparent rules violations. But I have a slightly different approach to this issue. For starters, how exactly does one go about getting in touch with a golf official during a tour event?  Is there a a published "tips hotline" that you can call anytime?  Wouldn't this lead to more pranks than actual useful intel?  And who is answering these emails and phone messages? Do the PGA and European Tours both employ referees whose sole responsibility is to wait for viewers to call in with information?
Secondly, what if other major sports conducted their officiating in a similar manner?  Could you imagine what the NFL switchboard would look like on any given Sunday? Fans would be lining up to call in and point out that Hines Ward did not maintain control of the ball as he fell out of bounds.  Or, picture the NBA accepting emails from fans indicating that Dwight Howard just committed another 3 second violation. Would the league office go to the video, confirm the infraction and alert the officiating crew that a change needed to be made?
Maybe it's just a golf thing. When you think about it, what sort of person has the time to call/email a tour official and tell them that a professional golfer made a mistake? In the words of Judge Smails, "Don't you people have homes?".