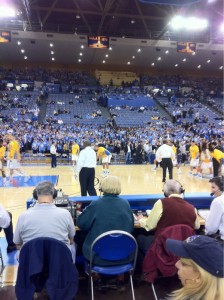 As Jerry Seinfeld once said: "Slapping hands is the lowest form of male primate ritual." We here at VMS fully support the high five and believe it has a clear and important place in this world.  In our latest set of 5 questions, we asked Larry Brown, editor in chief of larrybrownsports.com, what he thinks about the UCLA Bruins and the business of blogging in general.
VMS: You have the same name as the legendary basketball coach who once led one of your favorite teams the UCLA Bruins to the Final Four. So tell us, are you two really just the same person?
LBS: I'm his father. You haven't seen the Jr. suffix in his name? Actually, despite being a carpetbagger, the other LB doesn't get the credit he deserves for being as good of a coach as he is. Did anyone take a less talented team to an NBA title than Brown did with the Pistons?
VMS: Who wins a three point shooting contest: Don MacLean, Tracy Murray, or Kevin Love?
LBS: How about Jason Kapono? He and Reggie Miller have to be the best shooters to come out of UCLA. But Kevin Love would win between those three, who knew he had that in his game?
VMS: The term "blogger" continues to carry such negative connotations. At what point do you think sports bloggers will separate themselves from the other miscreants of American society?
LBS: I don't think bloggers are thought of as being as dirty as they were 2-3 years ago. I really just think people categorize sites. Do they enjoy them or not? Do they find the site respectable? If the answer to those two questions is "yes," then I don't think people care whether or not the writer is categorized as a "blogger" or not.
VMS: How often do you find yourself following or writing about a story that you may have very little interest in but that you know your readers are going to want to hear more about?
LBS: Pretty infrequently. We cover stuff that we enjoy writing about or following, for the most part.
VMS: Hypothetically speaking, what's the one sports story that you would love to break?
LBS: The story of the first sports blog to be bought out for an eight-figure price.
—————————————–
Thanks to Larry Brown for taking the time out of his busy blogging schedule to answer a few of our menial questions and please wish him well as he pursues that eight-figure payday.