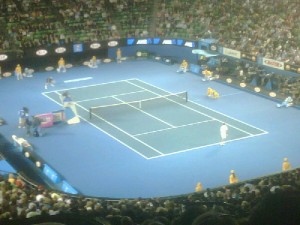 Tennis always seems to be one of those sports that is only on TV at odd hours.  Take the Australian Open for example.  Live coverage of tennis' first major starts at 7pm EST and, depending on the pace of play, isn't scheduled to end until 7am EST the following morning.  If my calculations are correct, that's 12 straight hours of live tennis.  In the immortal words of Winston Zeddomore, "That's a big twinkie".
I am much more prone to watch the Australian Open between 6-7AM, as I prepare to go to work, than I am any of the primetime coverage.  Same thing with English Premier League soccer. I would be really interested to compare the television ratings of primetime to early am tennis.  Is there a significant difference at all?
Like most casual tennis fans, things won't get interesting in Melbourne for me until some of the marquee players start squaring off against one another.  We will have to wait few more days for those matchups to transpire. Until then, grab a cup of coffee and enjoying a healthy serving of morning tennis.