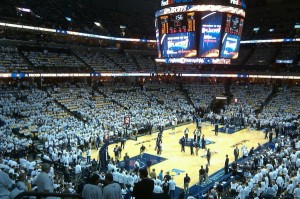 What a big night for Maryland Terrapin basketball! First the university hires Mark Turgeon to replace Gary Williams and then Greivis Vasquez, he of recent Turtle fame, buries a three as time expires to send the Grizzlies into a second overtime against the Thunder. OKC would eventually outlast Memphis in 3 overtimes by a final score of 133-123 but by all accounts this was playoff basketball at its best.
Got to hand it to the Memphis crowd who braved the rising waters of the mighty Mississippi River to come out and support their Grizz. I made it as far as the 2nd quarter before falling off into dreamland.
Before you scold me for my lack of dedication to playoff basketball just understand that when you have a 3 month old, you take your sleep wherever you can find it. If it comes at the expense of Grizz/Thunder, so be it.
I'll do my best to watch Game 5 on Wednesday, that is unless the game starts after 9pm and in that case all bets are off.