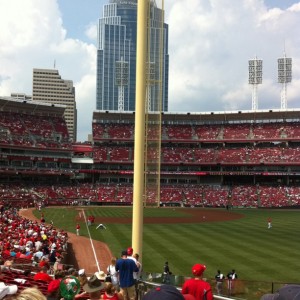 A Quick Trip Around the Bases
1B – Welcome back David Wright, we totally forgot you were missing. The Mets third baseman returned from the DL this weekend after nearly two months away from the game. In his first action back, he helped guide the Mets to a 7-6 win Friday night over the Florida Marlins with a couple clutch RBI doubles, and then allowed with a big home run Sunday afternoon. But the big question is, why wasn't his return more publicized? Shouldn't we all have been made more aware that a star like Wright is returning after two months away? I watched nearly 2/3 of the SNY telecast last Thursday when the Mets lost to the Cardinals and I can't recall either Howie Rose or Ron Darling mentioning a single thing about Wright returning from the DL. You would think it would have been much bigger news. Maybe the strikeouts, and throwing errors, have added up and Mets fans no longer regard Wright, alongside Jose Reyes, as the savior of the organization. A nice ballplayer, but not a superstar.
2B – The Seattle Mariners have now lost 15 games in a row and yet some how maintain a higher winning percentage than the Baltimore Orioles. Adding insult to injury, Camden Yards had been dealing with 100% humidity this past week. It's so hot and sticky out there that Boog Powell himself set up a dunk tank in front of his famous BBQ stand. Back to the Mariners for a second, how does a team with two stud arms like Michael Pineda and Felix Hernandez lose 15 games in a row? I don't care how anemic the Mariners offense may be, those two studs are natural born streak busters.
3B – C'mon Pirates, don't fail me now! Having officially jumped on the bandwagon a few weeks back, it was tough to watch the St. Louis Cardinals storm into sold out PNC Park and take 2 of  3 from the Pirates. However, thanks to some marvelous hustle by Pirate left fielder Xavier Paul, Pittsburgh was able to salvage Sunday's affair in extra innings to remain in a tie a top the NL Central with the Cards and Milwaukee Brewers. Tough to handicap this race. On paper, this is as good a chance the Pirates have had to win a division in quite some time. What is a little concerning is that both St. Louis and Milwaukee are willing to trade for a few quality players before the deadline. But what about the Bucs? Pittsburgh hasn't been in this position in quite some time, plus has a history of "thrifty" ownership, so it's really hard to figure what they are going to do this week. With the NFL set to announce an end to the lockout, the Pirates must retain their mid-summer swagger or else PNC Park is going to revert back to an abandoned, broken down iron works while their fans flock to worship at the foot of Heinz Field.
HR – Congrats to Bert Blyleven, Pat Gillick, and Roberto Alomar on their inductions into the Baseball Hall of Fame this weekend. My favorite Alomar story is where he would purposely bunt a ball foul down the third base line just so he could draw the infielders in a bit, which would then open up the left side of the diamond for one of his patented opposite field seeing eye singles. Those are the kind of stories you tell the grandchildren NOT the whole spitting in the face of an umpire incident which will unfortunately stay with Alomar the rest of his life.