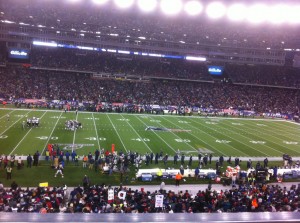 Patriots 23 Ravens 20 – New England dodged a bullet, maybe two, on route to Indianapolis. First Lee Evans fails to secure what would have been the game winning touchdown and then Baltimore kicker Billy Cundiff misses the tying field goal, making us all instantly forget about Scott Norwood. Joe Flacco proved to be much more capable than Ed Reed expected while Tom Brady kind of played like a guy worried about how he was going to regulate the temperature in his new 22,000 square feet mansion. Although, it's tough to give the Ravens QB too much credit when most smartphones continue to autocorrect his last name to "Flaccid".
And as a Patriots fan I'll be happy to never see Bernard Pollard again. First Brady. Then Welker. And now today Gronkowski. That man must have a personal vendetta against the entire Kraft family. Either that or he collects ACL's like Lt. Aldo Raine collects scalps. If I'm Bill Belichick I assign a member of my coaching staff to scout out the Lucas Oil Stadium parking lot just in case Pollard is hiding behind Peyton Manning's burnt orange Ford F-150 waiting to lunge at Aaron Hernandez with a tire iron.
Speaking of Indianapolis, it would have been a nice story if the Baltimore Football Team of Today would have had a chance to play for a Super Bowl Championship in the city that stole the Baltimore Football Team of Yesteryear. How many shots of the Mayflower trucks pulling out of Colts headquarters would we have had to endure? Alas, as @sethmeyers21 points out, probably an unhealthy number of National Bohemian's being consumed tonight down by the docks in Baltimore harbor.
Giants 20 49ers 17 – Somebody needs to explain why it looked so dark on the Candlestick Park field. Did they borrow a set of portable lights from a local high school? Did Jed York forget to pay his electrical bill? Forgot about the wet weather, as a receiver it must be next to impossible to catch a ball when it's being thrown down a dimly lit alley. Maybe that's why the game was decided on special teams.
My favorite part of the game came during the first half when Eli Manning was caught off guard then broke into an Irish jig. Those dance moves will come in handy when older brother Peyton shows him around the best juke joints central Indiana has to offer. I bet you Cooper Manning knows how to twirl a glow stick.