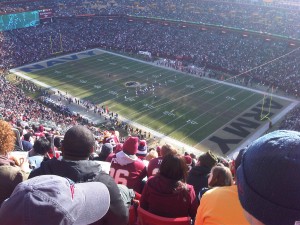 Texans 20 Bengals 19 – Could the TJ Yates Experience propel Houston all the way to a #1 or #2 seed and a 1st round bye in the AFC playoffs? And if so, would they be 3.5 point home dogs to either the Steelers or Ravens?
Lions 34 Vikings 28 – "Detective" Joe Webb almost led Minnesota back from the brink and has perhaps stirred up a QB controversy in the Land of 10,000 Lakes. I say the Vikings transition to a two QB system, like a lot of college programs, with Christian Ponder in for passing plays and the Detective in for the spread option/wildcat. Could be a very nice compliment to Adrian Peterson.
Saints 22 Titans 17 – Towards the end of the summer, I went out on a nice late afternoon jog and didn't get more than a mile into it before I managed to pull both of my calf muscles nearly simultaneously. After that, I learned the value of a dynamic stretching routing before and after any cardiovascular activity. Here's hoping Matt Hasselbeck has learned his lesson as well.
Eagles 26 Dolphins 10 – Looks like I rode the Fins one too many weeks.
Jets 37 Chiefs 10 – Tyler Palko is not a very good role model. Thanks to his recent play, more and more kids will mistakenly grow up believing that they too can be a starting quarterback in the NFL
Patriots 34 Redskins 27 – The view for this post comes from my friend Chip who was sitting in the upper deck during today's game at FedEx Field. Rest assured fellow Patriot fans, he told me that New England's secondary is just as bad live, if not worse, than it is on tv.
Falcons 31 Panthers 23 – Bill Simmons was right, it is next to impossible to tell Roddy White and Julio Jones apart.
Jaguars 41 Buccaneers 14 – After watching the Jags play San Diego last Monday night, I didn't think Blaine Gabbert was going to put up 41 points all season, let alone in one game.
Ravens 24 Colts 10 – Baltimore is now 7-0 at home. Must be the band.
Broncos 13 Bears 10 – You think there will be many people watching the Patriots/Broncos game next weekend?
Cardinals 21 49ers 19 – Bad, bad loss for the Niners who are no longer assured of a 1st round bye in the NFC playoffs. And for Arizona, would you believe that the Cards still have a shot at making the postseason? Maybe it has something to do with Larod Stephens-Howling who Cardinals radio broadcasters affectionately refer to as "The Hyphen". Easily the greatest nickname in the NFC West.
Packers 46 Raiders 16 – I wonder if the CBS production trailer ever thought about giving their viewers a live look-in to the Broncos/Bears game on Fox. Can't imagine there were many folks watching the 4th quarter of this laugher in Lambeau.
Chargers 37 Bills 10 – It would be soooooo like Norv Turner to save his job during this the final month of the season.