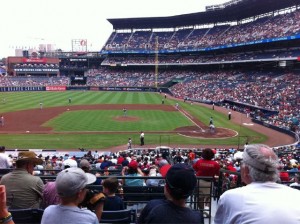 I'm not proud to admit it, but I ran out of coffee Sunday morning and of all the days of the week, Sunday is the last possible day I can afford for this to happen. I have no problem reusing day old coffee on a Thursday or for some sort of iced beverage but Sunday is a totally different story. If I don't get a fresh cup of hot coffee on Sunday morning then I can't possibly be expected to complete the New York Times crossword puzzle. And if I can't complete the New York Times crossword puzzle I certainly shouldn't be expected to execute any of the assigned chores for the day which usually includes cooking, cleaning, mowing, and just being an all around helpful husband/father. Needless to say, yesterday was not a very productive day.
A Quick Trip Around the Bases
1B – Arizona keeps chugging right along, even after being swept by the Atlanta Braves over the weekend they still remain 1.5 game in front of reigning World Series champions the San Francisco Giants. Many are crediting the turnaround in the desert to the coaching staff full of ex major leaguers led by manager Kirk Gibson. And while I'm sure the "been-there-done-that" mentality from the coaching staff has helped, the real reason the D'Backs are contending this season is because of players like RF Justin Upton and P Ian Kennedy. How many of Kennedy's 15 wins are you going to chalk up to pitching coach Charles Nagy? How many home runs has Matt Wiliams hit for Upton? Coaches matter but players matter more and it's about time we gave this group of relative no names the attention they deserve.
2B – Now onto something not so surprising, how historically bad are my Baltimore Orioles? With all the elbow and shoulder issues the team has had to deal with, club orthopedist Dr. Lewis Yocum is about to become as synonymous with the city of Baltimore as Johnny Unitas and Detective McNulty.
At this point, general manager Andy MacPhail should consider hiring famous actors who have previously played baseball players on the big screen to come to Camden Yards and reprise their roles for the Orioles. Because I'm pretty sure there are plenty of Baltimore fans who would rather see Nuke Laloosh on the mound than the Class-AAAA slop they have been wheeling out there these last few months.
3B – Can we take a quick pulse of the current AL MVP race? Leading my list are four players: Adrian Gonzalez, Jacoby Ellsbury, Curtis Granderson, and Justin Verlander. Verlander is the clear leader for the AL Cy Young award but there are plenty of people now rumbling for his name to be included on the short list of MVP candidates as well.
How in the world do you put Jose Bautista as your AL MVP favorite, especially when you also openly acknowledge that he, along with the rest of the Toronto lineup, has been the beneficiary of a phantom sign stealer sitting alone in the Rogers Centre Hotel. I'll give you that Bautista does hit a lot of home runs, but if this is our only piece of criteria for determining an MVP award, why not give the NL MVP to Dan Uggla?
Me, I'm going to go with Granderson who has more than made up for the fading power of ARod and the substandard average of Mark Teixiera. Of course, if the voting were to be determined by the female population of Revere, MA, Jacoby Ellsbury wins in a landslide.
HR – After weeks, if not years of speculation, the Chicago Cubs finally fired GM Jim Hendry. Now all anyone can talk about is who is line to become the next GM of the Cubbies. And according to the Courier-News, one of the primary qualifications to even be considered for this position is if you were either born in Chicago and/or remain a loyal Cubs fan. What is this, fantasy baseball? If we applied this same logic to say.. flying an airplane, we'd all be stuck with some sort of John Travolta type as our pilot and that wouldn't be good for anyone. Last night on the Cubs/Cardinals SNB broadcast, Cubs owner Tom Ricketts said that he is looking for three main qualities in his next general manager: player development, analytical approach, and tradition of winning. Ricketts went on to add that all interested candidates should submit cover letters and resumes to: The Chicago Cubs, Wrigley Field, Chicago, IL 60613.