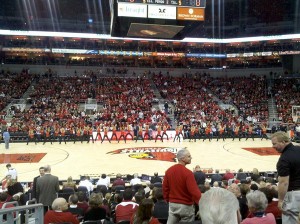 For the past decade, Gonzaga has held a special place in the hearts of most college basketball fans.  They have been the Boise State of college basketball, the Cinderella team from a non BCS conference that usually hangs around, pestering the perennial powers, until late March.  Last season, with their run to the national championship game in Indianapolis, the Butler Bulldogs emerged as America's other sweetheart alongside the Zags.  Both programs tip off this season ranked in the top 25.  If last night was any indication, opponents have circled their calendars and are ready to take aim at both teams.
The Louisville Cardinals opened their new arena, the "KFC Yum! Center" with an impressive 88-73 win over Butler.  The crowd was clearly exited about the new arena and gave their Cardinals an overwhelming home court advantage.  For their part, the Bulldogs looked detached and a bit scared.  This is not the same team that came within inches of beating Duke in last year's national championship.  Matt Howard refuses to stay out of foul trouble and Butler clearly misses the presence of a supreme talent like Gordon Hayward.  Not time to write the obituary yet, Butler has the pedigree and coaching to recover and stay in the headlines.
Share your views. Will Butler make a run in the NCAA tourney this year?  Is Louisville a true contender in the Big East?  And finally, "KFC Yum! Center". Really? Can't take the place seriously with a name like that.  I prefer the name Freedom Hall.