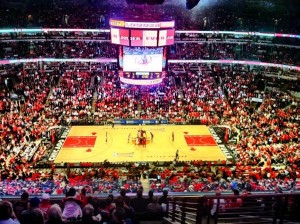 Trick question: there is no correct answer. As Terrence Malick would undoubtedly say, you must be comfortable living with ambiguity.* My dad bought us a beautiful Weber gas grill for our wedding a few years ago and we love the convenience/utility. Gas grills even make BBQing in the middle of a snow squall possible.
As for the flavor, a predictable defense of charcoal lovers, I don't see anything wrong with a mild propane aftertaste. I usually mask the natural gas flavor with a few generous ounces of Frank's Red Hot anyway so for a few less carcinogens I'm all on board the propane train.
In regards to the Heat closing out their series with the Bulls last night in Chicago, I'm disappointed but not surprised. My Windy City friends have already started to rationalize last night's loss. To them, the Bulls were a year away anyway and won't contend for a championship until they find another consistent perimeter scorer who can also defend. Free agent targets will include Jamal Crawford, JR Smith, or Jason Richardson. That is of course if we even have free agency this summer which. with the looming labor situation, is looking more and more unlikely.
*Here's what bothers me about Malick's latest "masterpiece".  Critics are telling me that the film is supposed to be some sort of cosmic allegory for human existence with a dash of Oedipus on the side. My "artsy" friends are saying I shouldn't even bother seeing the film because I probably wouldn't understand the complexity or magnitude Malick's semi-autobiographical opus anyway. Frankly, I don't get what all the hoopla is all about. To be honest, I feel that I could have told you everything you needed to know about the movie after watching the preview. Maybe I'll reserve final judgment until I actually see The Tree of Life but I shall remain skeptical for the time being.