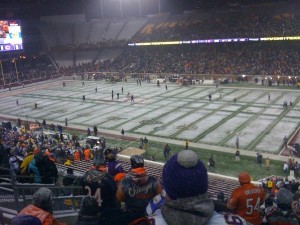 The Minnesota Vikings should play all of their home games outdoors. An outdoor NFL stadium in the Twin Cities would have provide serious home field advantages.  I bet if you polled Viking fans they would tell you the same thing.  The problem for Minnesota is, who's going to pay for the new stadium? The state is facing an enormous amount of debt, which makes public financing basically out of the question.  This is why I have said that the Vikings are a prime candidate to relocate.  Sorry Minnesota, if a new stadium isn't built I fear that your team could be headed out to the West Coast. Other potential candidates for relocation include Jacksonville, Oakland, and San Diego.
For now, here's my Week 16 NFL Power Poll
1. New England Patriots (12-2): John Kuhn is going to give me nightmares for weeks.
2. Atlanta Falcons (12-2): What are the chances that Atlanta ends up hosting Michael Vick and the Philadelphia Eagles in the NFC Championship Game?
3. Baltimore Ravens (10-4): My wife's new favorite movie is The Blindside, which means she is now obligated to now root for Michael Oher and the Ravens.
4. Philadelphia Eagles (10-4): Think the City of Brotherly Love has yet to fully embrace Vick? Check out this video from the Sixers/Lakers game last week.
5. Pittsburgh Steelers (10-4): Their chance are totally contingent on the health of Troy Polamalu. Without him, I wouldn't be surprised to see them exit the playoffs early.
6. New Orleans Saints (10-4): Feel like I haven't heard/seen much of this team since their Thanksgiving Day victory in Dallas.  I'm picking them to beat the Falcons next weekend in Atlanta.
7. San Diego Chargers (8-6): Chargers should be forced by league rule to wear their powder blue uniforms at home AND on the road.
8. Chicago Bears (10-4): Game on the line. Who would you rather punt to? DeSean Jackson or Devin Hester?
9. New York Jets (10-4): New York sports radio has a quintessential love/hate relationship with Rex Ryan and the Jets. All except for Mike Francesa who pretty much just dislikes everything about the J-E-T-S.
10. Green Bay Packers (8-6): Tell me again why the Packers didn't feature John Kuhn on their last drive of the game?  Patriots had no answer for him.
Share your views.