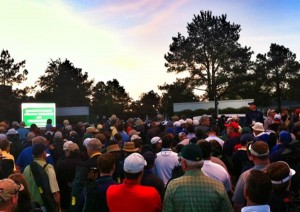 Since the Masters podcast with my buddy Chip was such a huge success, we decided to follow it up with a lengthy email exchange during Easter Sunday's final round. Thanks once again to Grantland for the idea. What would fledgling sports bloggers do without you?
——————
Jon: Hello friends, and a Happy Easter to you and yours. I don't know about you but when I think about all of the sins Jesus died for tops on that list must include the decision to avoid your wife and kid(s) during the 6 plus hours of Masters Sunday coverage. So really, when you think about it, it's all Jim Nantz's fault after all.
Jon: By the way, on the subject of whether or not they sell alcoholic beverages at Augusta National, now that I know what to look for I'm seeing green plastic cups everywhere. All sorts of corporate types double fisting. Which reminds me about a story I heard this week where a lot of Fortune 500 big wigs pay runners to sprint to a desirable spot on the golf course where they want there fold out chair set up b/c at Augusta National it's first come first serve and once the chair is down no one is going to mess with it. I'm so desperate to go to the Masters that one day I might try to become a corporate runner. Although, the more I think about it the more it would probably look like this.
Chip: Do you think Tiger has a full slate of post round family activities planned?
Jon: Louis Oosthuizen w/ a remarkable double eagle on the 2nd hole. First albatross on #2 in Masters history. Oosthuizen now at -10, two shots in front of Hanson and Mickelson. If this keeps up, before it's over I wonder how many times I'm going to misspell Oosthuizen?
Jon: Meanwhile, in Baltimore Jason Hammel has a no hitter through 7 against the Twins. Could be the greatest Orioles moment in the last 15 years.
Jon: And just like that, the no hit bid in Baltimore ends. Darn you Justin Morneau!!! I should have kept my fingers quiet.
Chip: Hanson, not hot right now. Hanson.
Jon: Mickelson knocks his tee shot at #4 off the stands, could be an early turning point on Sunday. Also CBS just showed the Adam Scott ace on #16 and it's nice to see that caddy Stevie Williams has yet to find his undershirt.
Chip: Wow! That is all I have. Wow!
Chip: PS, Who picked out Phil's wardrobe? #wouldplayaugustainadress
Jon: Mickelson finishes w/ a triple bogey at #4 and falls to -5, 4 shots behind the leader Oosty. What an embarrassment to all of us left handed hackers out there judging these professionals golfers from the comfort and anonymity of twitter. [Read more…]