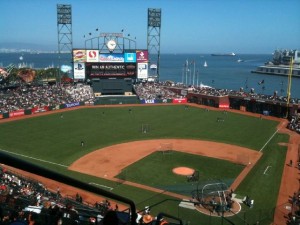 Where's my invitation to the MLB All-Star Game? At this point so many have turned down a chance to compete Tuesday in Arizona that I'm beginning to feel a little left out. Desperate times indeed and I wonder how many young fans out there are going to enjoy the 8th inning matchup of David Robertson pitching to Miguel Montero. Unfortunately there probably won't be many young fans watching at that point because by the time the 8th inning rolls around it's 11pm and most folks have already switched over to either The Daily Show or Keeping Up with the Kardashians reruns.
A Quick Trip Around the Bases (aka 4 simple ways to improve the All-Star game)
1B- Make it a day game. What's so wrong with a 1 or 4 o'clock start on a Sunday afternoon? Fear of running up against the ratings buzzsaw otherwise known as the final round of the John Deere Classic? If you make it a day game you expose younger fans to the best players MLB has to offer which will surely lead to greater interest in the sport. Which leads me to my second point…
2B – Smaller rosters and eliminate that silly little rule where each team has to be represented. Believe me, I'm a Baltimore Orioles fans and even I don't think Matt Wieters is an All-Star this season. Baseball fans only want to see the best competing against one another. Tom Verducci of Sports Illustrated said something really interesting when he talked about how All-Star starters should be left in longer and that playing time shouldn't be equitable.
3B – USA vs World. Call it an appetizer to tide you over before the next World Baseball Classic. (By the way, when is the next World Baseball Classic?) The NHL tried this for years and I seem to remember it working out quite well. Of course, if you really wanted to up the ante you could pair countries together like USA/Japan/Korea vs Dominican Republic/Puerto Rico/Venezuela. The only problem with this model is that you would then need to alter the current All-Star Game stakes where the winning side is crowned the home team in the World Series.
HR – Shorten the length of the home run derby. Do we really need 3 rounds? Also limit the number of competitors to 4, 2 from NL and 2 from AL, and make sure only the best power hitters are invited. Instead of having captains choose their squads, why not have the fans vote to determine who participates in the derby?
I would also add a skills challenge to the derby festivities, sort of like what the NBA does before the slam dunk competition. You could have a bunch of skilled 2 hitters likes Placido Polanco and Dustin Pedroia going through a round of "mission" hitting where they are awarded point for successfully executing a hit/run, sacrifice bunt, etc…. You could also organize a relay race of sorts where you have 5 competitors from each side competing against one another to see who can record the fastest time. Things like this could add an exciting element to the All-Star Game festivities.