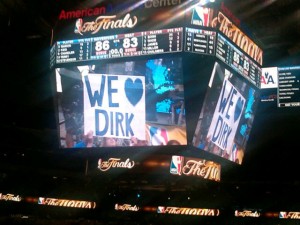 I'm worried that….
having a 4 month old son and a full time job precludes me from staying up past 9:30. I would have loved to see the Mavs come back on the Heat and close out Game 4 in Dallas but unfortunately, I didn't make it past the LeBron to DWade alley oop making it 67-64 Miami with only 2 minutes to go in the 3rd. After that, nighty night. How can a global audience on the world wide web take a writer/blogger seriously after they admit to not watching the 2nd half of an NBA Finals game? Sure, I could disguise my fatigue and act like I watched the whole thing but that would be disingenuous. I did last 3 months in the Cub Scouts after all.
this series is going 7 and I will be too tired to remember any of it.
the national sportswriters of America have gone completely schizo regarding LeBron. One morning the headlines read "LeBron is Jordan", next day it's "Wade Plays Alpha to James' Beta", and now after Tuesday night we are looking at a days worth of "Gone Missing" stories. Let's wait till the series comes to a conclusion before we etch anything permanent on LeBron's headstone. I will say however that James scoring less than 10 points last night does shock me. Maybe Dirk's German shooting coach Holger Geschwindner has been sending Lebron some evil eastern European vibes.
Rick Carlisle is going to panic some more and start Brian Cardinal over Tyson Chandler in Game 5.
this latest heat wave enveloping the Northeast will lead to a brown out right as the puck drops for Game 5 Bruins/Canucks. Of course, with a 4 month old son and full time job, I probably wasn't going to watch much more than the 1st period anyway.