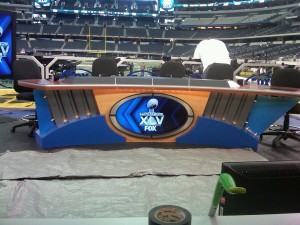 I'm usually not one for math, in fact single variable calculus was the sole reason my freshman GPA hovered around the Mendoza Line. But since every other Super Bowl XLV angle has been exhausted, I figured a statistical breakdown of Super Bowl scores by quarter gave VMS the best chance of creating a somewhat authentic perspective. And who doesn't like to buy a few SB squares? Think about all of the bars and private parties that have some kind of grid filled up while people wait to see what numbers they draw. (This coming from a guy who normally ends up with a nothing but a whole bunch of "2's" and "8's".)
So here is a statistical breakdown of Super Bowl Squares (numbers that give you the best chance of winning) plus my Super Bowl XLV predictions by quarter.
Square Frequency/Odds First Quarter
"0": 41/47%, "3": 21/24%, "7": 18/20%, "4": 5/6%, "6": 2/2%
XLV 1st Quarter Prediction: Steelers 7 Packers 3
Steelers take the opening kickoff all the way down the field for a Rashard Mendenhall 3 yard TD run. Aaron Rodgers wobbles off the field after a huge 3rd down hit by James Harrison which leads to an awkward 10 seconds of dead air while Troy Aikman tries to remember Super Bowl XXVIII.
Square Frequency/Odds Second Quarter
"0": 26/30%, "3": 17/19%, "7": 17/19%, "4": 9/10%, "6": 9/10%
XLV 2nd Quarter Prediction: Steelers 14 Packers 10
And now for the Bridgestone Halftime Spectacular featuring Fergie, the guy who kinda looks like Lou Diamond Phillips, and that dude from that Obama song!!!!
Square Frequency/Odds 3rd Quarter
"7": 20/23%, "0": 18/20%, "3": 12/14%, "4": 11/13%, "6": 8/9%
XLV 3rd Quarter Prediction: Packers 24 Steelers 17
Halftime adjustments allow Green Bay to storm ahead during the 3rd quarter. Speaking of storms, can sportswriters covering the Super Bowl in Dallas please stop talking about how bad the weather is? The Northeast has been bombarded with over 60 inches of snow since Christmas.  It's North Texas' own fault for not listening to the Mayan Calendar.
Square Frequency/Odds 4th Quarter
"7": 19/22%, "0": 12/14%, "4": 11/13%, "1": 10/11%, "6": 10/11%
XLV Final Score: Steelers 27 Packers 24
This game will come down to the team with the most experience/clutch quarterback.  With a 3rd Super Bowl ring, Ben Roethlisberger now enters the discussion as the most accomplished current QB alongside Tom Brady and Peyton Manning. Expect TMZ to be the first to break the story that Big Ben was in fact celebrating on the plane ride home to Pittsburgh, leading to a national news story which remains in the headlines until the start of spring training.