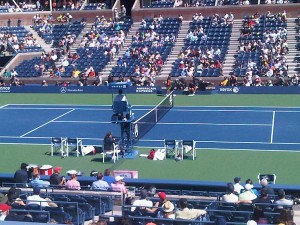 On the occasional Friday I like to share with the viewing audience a list of sporting events that I'll be watching over the weekend. Of course, my list isn't all that different from what most of you will be watching so if you are looking for something a little more "alterna", may I suggest you try the Speed and Fuel channels instead.
US Open Tennis: The rainy weather has added an extra element of patience, physical hardship to the already grueling fortnight of tennis. Looking forward to the Serena/Woz women's semifinal on Sat night along with the Fed/Nole & Nadal/Roddick vs Murray/Isner men's semi's earlier that afternoon. Although, I'm not sure how I feel about the men's final being moved to Monday afternoon at 4pm. Wouldn't it make more sense to move the final to 7pm and put it up against MNF rather than have it run during the end of a long work day when most people are busy with a final round of emails before getting in the car for the evening commute? I guess this decision to air the final during the afternoon shows us the true influence of the NFL.
College Football: Saturday night is date night in the View My Seats household as husband, wife, and hopefully a sleeping son prepare to watch Notre Dame/Michigan in the first ever night game to be played at Michigan Stadium. Not sure why we need to build an entire evening around this game other than the fact that my wife is Catholic and she believes Notre Dame would eventually be an excellent choice for our 7 month old son. Never too early to start saving!
NFL Football: Opening weekend and tons of great games to watch. The matchup I am most excited for is the Ravens/Steelers heavyweight bought which, to be honest I'm surprised is being played in week 1. This is the type of heavy hitting rivalry best served in the colder months when the frost is on the pumpkin and both teams are fighting for a first round bye.