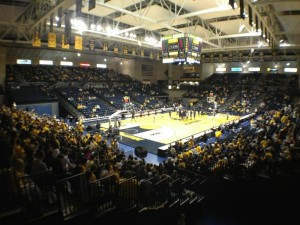 I once worked at a summer camp in upstate New York with a guy named Boog who graduated from Murray State. He was a massive individual, the sort of fellow whose landscape altering appearance was matched only by his deep baritone Appalachian drawl. Boog was working to become a certified NCAA basketball official, an endeavor which I found to be somewhat farcical considering his overbearing physical stature. (I always thought basketball refs should be built more like Dick Bavetta and less like Proposition Joe.) When Boog wasn't talking about how to properly differentiate between a legal and illegal screen, you could usually find him sitting comfortably by the campfire extolling all the virtues of his alma mater. Before roasting marshmallows in the Adirondacks, I knew Murray State only as the upstart #15 seed that pushed perennial powers like Duke and Carolina to the brink of defeat in the first round of the NCAA tournament. Thanks to Boog I learned a great deal about the university and how the school provided for an entire community in western Kentucky.
Last night the 2011-2012 Murray State Racers lost their first basketball game of the season, falling to Tennessee State 72-68. The #9 team in the nation now faces a much more difficult task in their campaign to lure Dicky V to campus for their Bracketbuster game against St. Mary's on February 18th.
I wonder if Boog will be officiating.