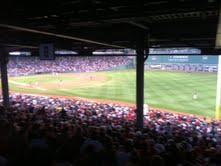 VMS reader Jimmy M. sends us this pic from last night's Red Sox/Orioles game at Fenway Park. Full stadium on hand, as expected, to see Boston bludgeon the O's by a final score of 10-3. But all anybody is talking about today is the "fight" between Red Sox DH David Ortiz and Baltimore pitcher Kevin Gregg. As Jimmy points out, the 8th inning provided and interesting series of events to have to explain to his 8 year old son Tommy. To be fair, what transpired between Gregg and Papi was a little a little confusing to even the most seasoned of baseball eyes.
As far as I can tell, the Baltimore Orioles are upset because they are playing like horse manure, having fallen a total of 16 games behind the steamrolling Sox. Papi has been walking his way down to first base since his days as David Arias so I'm not so sure why Gregg was so compelled to scold Ortiz on this particular occasion. On the other hand, Ortiz has no business overreacting to being pitched inside. That's where you go to get him out. Everyone knows this yet nobody executes this strategy properly – see New York Yankees.
In the end, the only way Baltimore exacts any sort of revenge against Ortiz is to win the next two games vs the Red Sox before heading into the break. Even still, they would remain well behind Boston in the standings with very little cause for optimism over the remainder of the 2011 MLB season.