Hello, friends. This year, there's a veritable glut of Christmas NBA action– about 13 hours of it in all– starting at Noon and finishing up on Boxing Day, ET. Here's our brief look at today's matchups.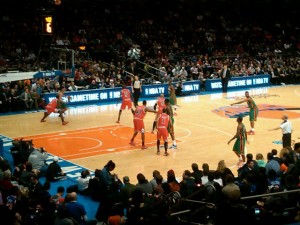 Chicago Bulls at New York Knicks, 12:00 PM (ESPN)
It appears that basketball has finally returned to The Mecca. The rivalry began in the early 90s, only to lose a lot of its steam after Michael Jordan retired. But now, with both squads tapping the free agent big man market over the summer, the tradition returns to MSG. And by the way, Ray Felton IS an elite NBA point guard.  Look no further than his numbers: 18.2 PPG, 9.1 APG, 3.9 RPG, 1.9 SPG. Stats don't lie. As good as Amar'e has been early on, and he's been great, I would argue that some of those Garden "M-V-P" chants could easily be thrown Ray's way. He's finally in sync with Stoudemire on the pick-and-roll, is not afraid to step back and knock down a three-pointer, and seems to thrive on pressure situations, making shot after shot when it counts.
(view courtesy of @dR3wMiLL3R)
As a lifelong Knicks fan who remembers the 90s and what those Knicks-on-Christmas game meant to the NBA, I'm just thrilled that this game means something. Again.
Boston Celtics at Orlando Magic, 2:30 PM (ABC)
Boston has won 14 games in a row. The Big 3 has been consistent, steady, and reliable. The two O'Neal's and Rondo have all been shelved at some point (J.O and Rondo won't play today), every game seems to come down to the last shot, but somehow the Celts are 23 and 4, leading the East.
Orlando has looked awful at times this year. Their two wing scorers, Rashard Lewis and Vince Carter, loved to disappear, to the point where the Magic blew up their squad with two blockbuster trades last week.  The Magic looked great in beating the Spurs on Wednesday night. Arenas, Turkoglu, and Richardson are all playing meaningful minutes, without any semblance of a formal offense yet, alongside Howard, Nelson, and a somehow-relevant-again JJ Redick.
In the closing seconds, the ball will be in Paul Pierce's hand and I think you can all guess what happens next.
Miami Heat at Los Angeles Lakers, 5:00 PM (ABC)
This is the one everyone's been waiting for. Wait, no, no it's not. I can't tell you how tired I am of the soul-searching interview with the conflicted, misunderstood athlete. Kobe, I don't care how complex you think you are, just like I don't care that your neuroses will make everyone in your life an emotional basketcase when you retire. Stop smirking at me.
Anyway, the Heat are playing some great ball, with the "Miami Thrice" finally looking and playing up to that silly name. Mike Miller is back, James Jones continues to hide in the corner and snipe 3-pointers, and somehow, the combination of Ilguaskas and Anthony is working.
Most of the East Coast will be eating dinner during this game, so it'll be up to Southern California fans to (not) watch this game. These teams do actually match up pretty well with each other. I'm interested to see who guards Bryant and who guards James, although the prospect of them guarding each other is about as likely as either of them turning down an interview.
(Ed. note: these are the shoes that Kobe will be wearing tonight. Yes, they are styled after The Grinch.)
Denver Nuggets at Oklahoma City Thunder, 8:00 PM (ESPN)
Are we allowed to call these teams disappointing? The Nuggets (16-10) and The Thunder (20-10) both have winning records and current playoff spots, but something is missing.
Expectations were high for OKC coming into the year, but Kevin Durant's scoring is down about 2.5 points from last year and he just looks worn out at times. In Denver, the Carmelo Anthony situation is approaching "Hot Mess" status. He has publicly stated that he wants to be a Knick, his wife is from New York, but the Nuggets do not seem at all interested in making that happen. Awkward!
Both of these teams are fun to watch, mostly because they don't like playing defense. It should be loud in the Oklahoma City Arena tonight and if either big man– Nene or Ibaka– can control the offensive boards, it gives his team the edge. The Thunder rolls.
Portland Trailblazers at Golden State Warriors, 10:30 PM (ESPN)
Poor Portland. First, the curse of Greg Oden, and now Brandon Roy's future is looking perilously mediocre. On the bright side, though, LaMarcus Aldridge looks like the real deal: a legit 7-footer with a feathery mid-range game and the ability to rebound and block shots. And Wes Matthews has emerged out of nowhere as the best Blazer perimeter option. Who knew?
He will have his hands full with the GSW backcourt tonight, though. There is no guard in the league playing better than Monta Ellis, scoring points in droves and dunking over unsuspecting foreign-born big men. After getting off to a quick start, the Warriors have really fallen off of late. They definitely have playoff-caliber talent, but need to start harnessing it.
Ellis gets 40. GSW wins a barnburner and starts a run.
Merry Christmas! Share your views!