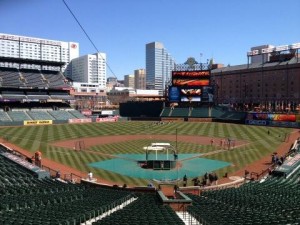 A few Opening Week observations from around Major League Baseball
1) Three games into the 2013 season and it's pretty clear that there are 3, maybe 4, teams in serious jeopardy of losing 100 games.
Locks: Marlins and Astros
With the lineup that surrounds him Giancarlo Stanton should lead the league in intentional walks while Houston hitters may strike out more in one season than Don Draper has in his entire fictional lifetime.
Outside Shot: Twins and Padres
I watched some of San Diego's series against the Mets and granted they were without leading RBI man Chase Headley but even still there are a whole slew of outs up and down that lineup. And the Twinkies, I better be careful what I say before they help my Orioles open Camden Yards this weekend.
2) The current Red Sox and Yankees lineups reminds me of the lean SNL season of 1985-86. Ask Simmons or Seth Meyers but Travis Hafner may as well be Randy Quaid and Will Middlebrooks is a dead ringer for Anthony Michael Hall.
3) Interleague play feels like a total drag now that they are scheduling a constant stream of interleague series throughout the season. At least when it was a few weeks blocked off you could mentally prepare but now it has made scheduling incredibly hard to follow. Take the Reds/Angels during Opening Week. Great series, potential World Series preview, but the Reds should open with a division rival like the Cubs or Pirates. This is one tradition that didn't need to change.
4) I agree with Jose Bautista. Some MLB umpires are 'mediocre'. Still, if I were him I'd keep my mouth shut. You never know how many Ed F Rush's there are lurking around those umpire locker rooms.
5) Hard not to feel terrible for Baltimore 2B Brian Roberts who had to be carried off the field Thursday in Tampa after an awkward slide into second. A scheduled MRI will likely lead to a stint on the 15 day DL. Fans tend to forget that it wasn't too along ago that many were calling Roberts the best 2B in the game. A few concussions later and the 35 year old is now just trying to stay healthy and contribute to a lineup that would really benefit from his production.
6) Don't sleep on the Athletics who may once again have the moxie and pitching to unseat one of the AL West's big budget behemoths the Angels or Rangers. And Josh Reddick, that beard of yours belongs in the Smithsonian right beside Abraham Lincoln's top hat and Dorothy's red slippers.
7) Matt Harvey looks like he could be the real deal but Mets fans ought to start pumping the breaks a bit on all those Tom Seaver comparisons. It wasn't too long ago that Bill Pulsipher was going to be the next Jerry Koosman and we all know how that went.
8) Vladimir Guerrero has signed on to play with the Long Island Ducks of the independent Atlantic League which makes me sad especially because it wasn't that long ago that he was golfing home runs out of Olympic Stadium in Montreal.