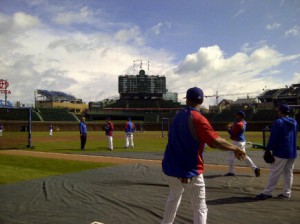 With all these aces like Stephen Strausburg and Matt Cain getting knocked around Sunday afternoon the question is who has the April advantage: pitchers or hitters? Yesterday aside, I would still take the hitters because most starting pitchers have yet to build up enough arm strength to either max out on the radar gun or throw their entire repertoire pitches. Plus, pitch counts are kept intentionally low so as to maximize productivity over the course of a 162 game season. Hitters can get their timing back during the lengthy spring training and the only real adversity they'll need to deal with up north is the colder weather, which, if you've ever closed a window on you're finger than you know exactly how it feels to get jammed with a wooden bat in 45 degree temps. It's the kinda dull, numbing pain that comes back again and again like when you're trying to take the top off a tub of vanilla ice cream. Regardless, by May the playing field should be even and David Price will go back to being David Prive and R.A. Dickey..well, we will see.
Round Tripping
1B) R.A. Dickey won the NL Cy Young last season and was really the only reason to visit Citi Field during the dog days. The Mets traded him to Toronto for prospects and he was supposed to anchor a Blue Jays rotation that was amongst the leagues best. But after getting knocked around in his first two starts is Canada starting to get a little worried about how many knuckleballs the 38 year old has left in that Star Wars loving right arm of his? Will Middlebrooks isn't complaining after belting 3 home runs off the Blue Jays ace(?) on Sunday.
2B) Don't expect Josh Hamilton and his family to be vacationing in central Texas any time soon after Rangers fans were supposedly serenading his wife with a few poorly conceived profanities. (Stay classy Arlington.) Although, the more I think about it, why was Hamilton's family there in the first place? Didn't they have to know they were going to face a certain amount of verbal abuse from Rangers fans still stinging after Hamilton took the money and ran to Orange County? I'm actually surprised to hear that so many Texas fans know what Josh Hamilton's wife looks like. Was she wearing a "Hamilton 32" replica Angels jersey?
3B) The Marlins, yes the Marlins, may have found a future ace in 20 year old Jose Fernandez who took the no decision yesterday after tossing 5 innings of 1 run ball, striking out 8. The Mets came back to win on a Marlon Byrd single and Marlins rookie manager has egg on his face after bringing his infield in up one with runners on 2nd and 3rd. (Ron Gardenhire does not approve.) Look for Miami owner Jeffrey Loria to get as much out of Fernandez this year before packaging he and Giancarlo Stanton together in a package to the New York Yankees in return for 10 AA prospects.
HR) Chris Davis has now gone two games without a home run  which shouldn't minimize his historic start to the season but if the Orioles pitching continues to struggle like it did Opening Week then the Hulk will need to keep up his torrid pace.