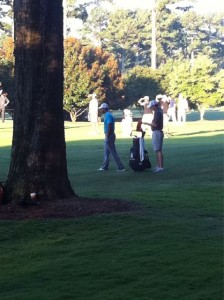 Get those resumes ready, Tiger* needs a new caddie. Good friend, and looping novice, Bryon Bell is just not going to cut the mustard. Qualifications for a permanent caddie include but are not limited to: 10+ years experience on the PGA tour, a minimum of 2 major championships, and most importantly, complete discretion/secrecy when it comes to the personal affairs of the world's former #1 golfer. Regardless of who's carrying the bag for Tiger, I do not expect him to contend at the PGA Championship this weekend, even though Vegas has him at 10-1 odds, right alongside other favorites like Adam Scott and Rory McIlroy. All of this begs the question, who do I like to hoist the Wanamaker Trophy Sunday night?
Predicting the PGA Championship
Bronze: Jason Day – Why do professional golfers like Day choose to stay in mobile homes the week of major tournaments? I first remember hearing about this strange phenomenon back in John Daly's rustic heydey, but in his case a Winnebago made perfect sense. Jason Day is a world class golfer with an awesome Australian accent, gorgeous young wife, and millions already in the bank. What's he doing shacking up in trailer parked at the local Chick-Fil-A?
Silver: David Toms – Had to go with at least one veteran this week in the ATL. Speaking of the South, how swampy is the Atlanta Ahtletic Club going to get this week? I'm guessing we'll be able to conduct a rorschach test based solely on the different sweat patterns emerging from the bottoms of all the different soaked pairs of dungarees. We should all be thankful that Chicago Bulls forward Carlos Boozer is not a golfer. That man sure does know how to perspire.
Gold: Dustin Johnson – While vacationing in northern Wisconsin last week, I played golf with an older gentleman from the Northwoods whose given name was Sampson but who introduced himself as "Snake". Snake, as you can imagine, was quite the interesting character. One of his favorite hobbies – alongside fishing for muskie and playing in a polka band – was making his own golf clubs. I first noticed his homemade clubs when he unsheathed a massive driver that looked exactly like the r11 used by Dustin Johnson. When I asked Snake why he choose to make his own clubs his response was: "what's the difference between a $400 driver and a $100 driver? (Pause) $100". Simple logic really.
*love this picture from the Atlanta Athletic Club Courtesy of @JamesHaddockSSN. Totally looks like he got up super early and disguised himself as a large oak tree just for this one moment where he could snap a photo of an unsuspecting Tiger Woods. Good journalists know no bounds.