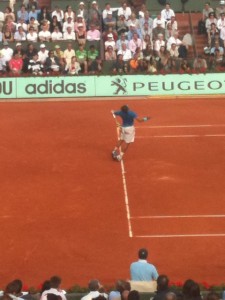 As an athlete and champion, Rafael Nadal has many admirable qualities. His dogged determination and work ethic have enabled him to win 10 majors, including the 2011 French Open over Roger Federer. But one aspect of Rafa's game that goes undiscussed, but certainly not unnoticed, is his willingness to overcome high riding negligee.
That's right, Rafa Nadal, winner of now 6 French Open's, loves to pick his wedgie. As a tennis fan, you don't go into the French Open finals looking for this sort of thing, but in the case of Nadal and his wardrobe malfunctioning, it's impossible not to notice. Before every service point. On the way to his chair during a changeover. Arguing a call. You name it he picks it. At this point in his career it is probably part of his routine sort of like serving, vollying, and winning.
Now we can all empathize with Rafa. Who hasn't gone for a jog on a nice humid July afternoon and traveled only a half mile into the run before realizing that the unmentionables are creeping towards the nether regions. It happens and we should not begin to pass judgment on one of the 4 or 5 greatest tennis players of all time. If anything, we should be complimenting Nadal and making an art form of the wedgie pick.
Congrats Rafael Nadal on winning another French Open and proving that you too are a man uninhibited by television cameras and millions upon millions of onlookers.