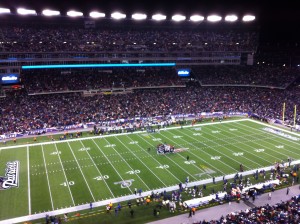 Layering was the key to surviving sub zero temps Saturday night in the Razor. That and a few well placed hand warmers did more than the trick as we braved the upper deck maelstrom to watch the Patriots advance past Tim Tebow and the Denver Broncos on their way to the AFC Championship next Sunday.
Highlights of our excursion to Foxboro included: parking at a Papa Gino's, frozen Magic Hat Howl, and running into Massachusetts Senator Scott Brown. Which reminds me, when a politician goes in for the hand shake and you're already holding two beers it's best to counter with a polite elbow.
Saturday
49ers 36 Saints 32 – Not gonna lie, missed this one completely. Well that's not entirely true as I did manage to catch a few fleeting glimpses while I walked past various makeshift Direct TV setups en route to my designated tailgate in the Enterprise rent-a-car overflow parking lot. By the way, it's a little known fact that the quality of a football tailgate is inversely proportional to the location/business where it is being held. A Chubby Chet's Tire Warehouse is sure to bring about the finest fish chowder in all of New England while officially sanctioned affairs at Patriot's Place will leave you sitting in a snow bank by halftime.
Patriots 45 Broncos 10 – And it wasn't even really that close. The only time I found myself holding my breath in nervous anticipation was when waiting in line for a good solid 15 minutes before using the bathroom. If things went on any longer I was going to have to call an audible and scurry off to "tebow" in one of the poorly lit corners of Gillette Stadium.
Sunday
Ravens 20 Texans 13 – Baltimore had several chances to put this one away early but credit the Houston defense for keeping it close until the bitter end. Also the Ravens crowd continues to impress as one of the most influential "12th men" in the game. Now if only Baltimore would show up for the Orioles.
Giants 37 Packers 20 – More than anything, I'm just sorry we won't be able to see any more of those State Farm Insurance "Discount Double Take" commercials. They've been a staple in our lives for the past 4 months and I for one don't know if I'm ready to live without them. On a lighter note, Giants/49ers in the NFC Championship Game brings back such fond memories of 1990 when I convinced my parents to let me stay up just long enough to listen to Whitney Houston lip syncing the National Anthem.