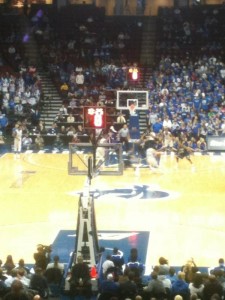 Since when did Lake Winnipesaukee become such a hotbed for prep school basketball? Most folks are familiar with the New Hampshire Lakes Region for its pristine beauty, 0% sales tax, and golf ball sized mosquitoes. But premiere high school hoops in Northern New England? Sounds like some sort of bizarro John Irving novel under the heavy influence of either Adrian Wojnarowski or Scott Raab.
This past Monday Brewster Academy defeated in-state rival Tilton School 60-56. With the win, Brewster extended their record to 28-0 and will remain the top prep team in the country. That's right, the top high school basketball team in the United States is from little old Wolfeboro, New Hampshire. This seems about as likely as an undrafted second year point guard from Harvard emerging as the New York Knicks savior. But I digress.
Here are the top ten sports related events more likely to occur in New Hampshire other than being home to the best prep school basketball team in the nation.
10. Ice Sculpting – Having grown up in Hanover, I can attest to the wild scene that is the Dartmouth Winter Carnival. It's like something only the National Lampoon could conjure, fueled entirely by Mad Dog 20/20 and Swisher Sweets. The Greeks are allowed to pass off their debauchery by creating large ice sculptures on the front lawn of each fraternity. Now these creations are usually tied to a specific theme, like Dr. Seuss or the Abominable Snowman, however the only time anyone every sees these sculptures is when some overserved pledge attempts to jump over them on ice skates fashioned out of petrified birch tree braches. Trust me, this never ends well.
9. Surfing – You don't need to travel to exotic locales like Cape Cod or Newport, RI to find some totally tubular New England waves. Hampton Beach provides wannabe Johnny Utah's with ample surf and sun. And who knows just when a pickup football game may break out.
8. Motorcycle Gathering – I have never been so horrified as I was when driving through Meredith, NH and being passed by roughly 100 Clay Morrow lookalikes all wearing leather chaps sitting atop Harley-Davidson choppers with names like "Buttercup", "Mystique", and "Precious".
7 – Ski Racing – The majestic White Mountains provide many scenic opportunities for both alpine and nordic skiing. But honestly, I don't know anyone under the age of 45 who cross country skis. My mom took me XC skiing over the backcountry once and it was a miserable experience. For starters, cross country is much more difficult than downhill mostly because you have to create all of the momentum yourself. Secondly, it was like running on a treadmill. We must have gone around the same open field five times before returning home. All and all, cross country skiing is not something for me. At least not until I turn 45.
6. NASCAR Race – Yes it's true, Loudon, NH is home to several NASCAR events as well as an Indy Car race. And you thought it was only Dixie that cared about fast cars driving in concentric circles until they all crash or run out of gas.
5. Mountain Climbing – Speaking of outdoor activities, the White Mountains boast the Presidentials, a series of tall peaks named after famous US Presidents. Mt. Washington is probably the most famous of the bunch and if you don't feel like climbing the highest mountain in New England you can always drive your car to the top and purchase one of these decorative stickers. Hiking suites my fancy just fine, so long as it not black fly season. Black flies are the scourge of human existence and the single most effective means of population control in New Hampshire.
4. Big Buck Hunter – I've been informed by a colleague in the know that the appeal of this arcade game found commonly in bars across the Kancamagus is not the killing animals part but that it tests your quick twitch muscle response. Sounds a little fishy to me. Get a few Dr. McGillicuddy's in you and shooting defenseless opossum sounds pretty entertaining.
3. Golf – Even though the official golf season exists for only a few fleeting months before the frost descends from the arctic and envelopes the entire state with a permafrost until the following May doesn't mean that the Granite State is void of championship caliber golf courses. In high school I use to frequent a course where on the 18th hole you had to hit your tee shot over a 300 foot ravine. 9 times out of 10 I ended up at the bottom of the gorge having to take a drop by the ladies tees on the other side of the bridge. Humbling experience especially when the people you are playing with never seem to make the same mistake.
2. Rope Swings – You haven't lived until you have been hit in the genitals by a long piece of knotted rope while free falling into the shallow, ice cold water of the Connecticut River.
1. Pond Hockey Tournament – I have friends who compete in an outdoor 3-on-3 hockey tournament held every winter on Lake Winnipesaukee. They tell me that some of the highlights include: no officials, a skate in and skate out Labatt Blue tent, and the fact that everyone is off the ice by 2pm which allows the "athletes" an optimal amount of time in one of the many Lakes Region greasy spoons.