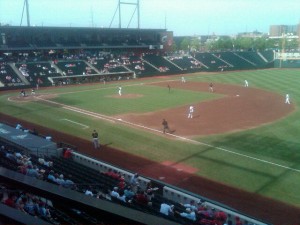 Some folks boast a photographic memory while others claim to count cards. Me, I have a strange telekinetic ability to predict the plot of a movie based solely on the coming attraction. I will channel these talents every week in an effort to breakdown the latest summer blockbuster. With a little luck, and patience, I'll also connect the movie to a current sports story.
Super 8

I played a game of word association with my wife this morning. I asked her what came to mind when she heard the words "Super 8" to which she responded, "a popular hotel chain in Ohio/Pennsylvania where I once spent a night sleeping on top of the comforter for fear that the sheets hadn't been cleaned". I proceeded to explain to her that Super 8 is a movie produced by Steven Spielberg, directed by J.J. Abrams, about a mysterious "life form" terrorizing small children in the American Midwest. Shockingly, my wife wasn't all that interested until I showed her this preview. Now, she is mildly curious which leaves me without a date this weekend. I only wish my 4th month old son was seasoned enough to enjoy a fine piece of summer cinema.
A Second by Second Breakdown
:4 – Young, impressionable boy riding his six speed through a quiet Midwestern mill town while a magical score twinkles in the background. Yeah, I say this one has Spielberg's fingerprints all over it.
:18 – Coach Taylor! What are you doing so far away from Dillon? Say hello to your beautiful wife Tami for me.
:33 – This thing is starting to play like an homage to the young disenfranchised, misunderstood filmmakers of America. We don't feel sorry for you Mr. Spielberg. Well, at least not since Indian Jones 4.
:44 – Loud noises!!!!
1:17 – Wait, I thought aliens liked house pets? What could they possible want with poor Lucy?
1:33 – Remain calm, all is well. Remain calm!!!
1:51 – Darth Maul????
1:58 – Ron Eldard, what are you doing here? Haven't seen you since Mystery, Alaska.
Ok, so here's the skinny. A young J.J. Abrams and his dad move to a small town in the Midwest after the tragic/sudden loss of  his mom. At first, young J.J. struggles to make friends but eventually finds himself fitting in with a fringe crowd which includes a chubby sidekick akin to Jerry O'Connell's Vern from Stand By Me and Dakota Fanning's younger sister.
Next, some secret military cargo train goes off the tracks freeing a demonic alien who is all sorts of angry after being cooped up an underground laboratory in Los Alamos, Nevada since the lunar landing in 1969.
The only proof of what really exists lies in the Super 8 that the government doesn't want released for fear that it will expose the truth of the situation which is that gov't has been involved in a massive cover up involving the Russians, Al-Qaeda, and Charlie Sheen. The "monster" will eventually be revealed as an innocent and misunderstood figure, just like young J.J. Abrams. I'm picturing Iron Giant meets Goonies . Thoughts?
As with a connection to a current sports story, you could make of some similarities to the cover up in Columbus, Ohio. It was recently revealed that Jim Tressel knew about improper benefits to Ohio State players, most notably the latest tattoo for memorabilia scandal. College football critics aren't surprised while some fellow coaches say pay the players. With the amount of money these programs generate, it seems shortsighted to not compensate the players. Although, when you think about it, isn't that what a 200K athletic scholarship is for?