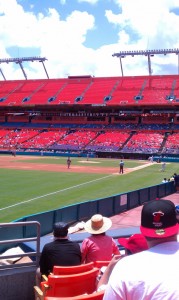 Before we delve into baseball, here are a few quick strokes from the final round of the PGA Championship. First, neither name may light up the box office but Keegan Bradley and Jason Dufner sure do know how to put on an exciting finish at a major championship. Happy to see the New England native Bradley pull through, most because I had this constant feeling that Dufner was a lukewarm Colt 45 away from the couch. Secondly, CBS must believe that everyone watching the broadcast suffers from erectile dysfunction and low testosterone. There were so many Cialis commercials that I almost felt like watching the coverage from my bathtub. And I'll tell you another thing, next time I'm watching a PGA tour event in person, I'll make sure to give a wide berth to my fellow onlookers. Who knows what's going on down there after all. But, I digress.
A Quick Trip Around the Bases
1B – Too much LoMo for the Florida Marlins? Logan Morrison, the Marlins starting left fielder and outspoken twittaholic, was sent down to Class AAA New Orleans Saturday night after a 3-0 defeat at the hands of Tim Lincecum and the San Francisco Giants. Morrison is having a breakout season for the Marlins, batting .249 with 17 home runs and 60 RBI which is exactly the reason why his demotion was very surprising.  According to a justifiably prickly Morrison, he was told by the Marlins organization that his being sent down had to do with hitting .240 while manager Jack McKeon was equally cryptic, adding that it was a move which should help LoMo "go out and work on his game". Not exactly inspiring words from the 80 year old Marlins skipper which, along with the timing and overall cloudy nature of the decision, has led many to continue wondering what the heck if going on in South Florida.
Now, as conspiracy theories continue to mount, people are starting to believe that the Marlins sent down Morrison for being too present on twitter, occasionally speaking out against the Florida organization and its has been star shortstop Hanley Ramirez. If this is truly the case, then the Marlins organization is out of touch with the winds of MLB fans/social media and must develop a much firmer backbone when it come to handling honest criticism from players. LoMo is good for the Marlins and the game of baseball because he has figured out a way to connect with and facilitate relationships with fans – not to mention the 17 HR's and 60 RBI. As the Florida organization prepares to open its new stadium next summer it would be wise for the front office to embrace Morrison and his 50,ooo+ followers on twitter. They do after all represent 50K more people than the average attendance at Sun Life Stadium Marlins this season.
2B – Carlos Zambrano continues to be nothing but a counterproductive influence on the Chicago Cubs, MLB, and hefty starting pitchers worldwide. By this point we shouldn't really be surprised by anything Big Z does, including threatening to retire from professional baseball mid season. His debilitating petulance was on full stage again over the weekend after he responded to another woeful performance against the Atlanta Braves by throwing at Chipper Jones. He would then later pack up the entire contents of his locker and swear to never return again. The Northside of Chicago probably wishes he was serious about retiring, that way the Cubs wouldn't be on the hook for his substantial salary in 2012. Is there another MLB team out there dumb enough to trade for the starting pitcher? The Cubs are ready to listen to most offers including, but not limited to: a box of baseballs, Derek Jeter 3K hit memorabilia, or a tub of used pine tar. Nobody needs pitching that badly. Taking it a step further, all unemployed Chicago Cubs fans should be allowed to throw a bucket full of warm lemon-lime Gatorade at Zambrano in hopes that he will wake up and realize how fortunate he is to still have a job.
3B – No Sunday morning is complete w/out a little Ed Randall's Talking Baseball on WFAN New York. In between reminders to get your prostate checked, Randall managed to squeeze in a brief discussion on the most sure-fired way to shorten the length of MLB games, which he believes is to simply have umpires call more strikes. Of course, in this the age of entitlement, players have slowly eroded what little confidence umpires once held – well all except for Cowboy Joe West – making it nearly impossible for the men in blue to call a letter high strike. Here's an idea: replace the plate umpire with one of those pitch tracks boxes they use during the television broadcast. That way, when David Ortiz complains about a knee high strike he has no one to blame but Joe Buck and Tim McCarver.
HR – Arizona has a problem and it has to do with their grass. They can't grow any. Right now, the outfield at Chase Field looks like a patched up pair of corduroys. They need to install something similar to what the University of Phoenix Stadium uses which is a retractable surface that maintains appropriate amounts of sunshine and moisture. Or they can just keep doing what they're doing which, if the Diamondbacks make the playoffs, means that we'll have October baseball from the desert. Literally.