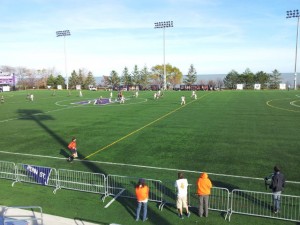 As a writer, I am really not qualified to editorialize on the recent allegations surfacing about the Penn State football program and former longtime defensive coordinator Jerry Sandusky. But as a human being, I, like most people, am more than equipped to share my sincere and complete disgust over these reported, and corroborated, acts of repeated sexual assault and violence towards minors. At this point, my only hope is that the victims of these alleged crimes can one day find peace and safety.
Here are some writers/bloggers/former Penn State football players who can all offer much more insight and context to what has become perhaps the saddest most salacious story to ever hit college athletics if not sports in general.*
First, from Spencer Hall, he of @edsbs twitter fame, comes what I believe to be the comprehensive expression of the sadness and genuine anger we are all feeling right now. There are simply no real words to describe the types of emotions these allegations bring to the surface.
Next comes a simple, yet powerful statement from Susan Orlean of The New Yorker, who encapsulates the mesmirizing allure of big time college football and how certain programs can effectively shield themselves from unwanted attention and scrutiny. Did Penn St. and JoePa effectively cover up the crimes Sandusky was committing simply to protect the football program? It's way too early to tell who exactly is complicit in this mess of situation but one thing is for sure, the legacy of Joe Paterno will forever be tarnished.
Finally, former PSU linebacker, and now radio host, LaVar Arrington shares his dismay and surprise upon hearing such atrocious things about a man, Sandusky, who mentored are cared for the player while in Happy Valley. The fact that this news and information comes as such a shock to the players** who spent such a considerable amount of time with the former d-coordinator, and onetime heir to the Nittany Lion throne, makes this story even scarier and only heightens peoples awareness/suspicions of sexual predators living amongst us.
In the end, more will be written and there will be time for greater reflection. Right now, the details of this story are too sordid to totally comprehend as most of continue to shake our heads at the thought of such evil existing in this world.
*Drew Magary over at Deadspin believes that as of now, the PSU/Sandusky scandal still ranks second to OJ but that could all change depending on what other information, especially if it involves JoePa, is released/exposed over these next few days/weeks/months.
**Matt Millen, another former PSU linebacker now ESPN analyst, literally broke down and started crying this morning in front of a live national audience.
view from Northwestern/Penn St soccer courtesy of @PSUwomenssoccer