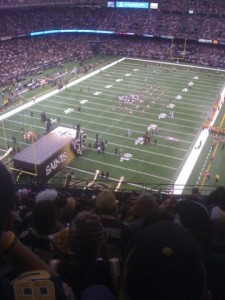 Before getting into the NFL, here are just a few thoughts on the final drive of that Michigan St./Wisconsin instant classic from Saturday night.  1) When the Badgers couldn't recover a Kurt Cousins fumble in Spartan terrority you just had to have the sense that this wasn't going to be Wisconsin's night. 2) And then head coach Brett Bielema started calling timeouts. I don't understand why he was so compelled to win the game in regulation, especially considering that CFB has by far the fairest, most equitable overtime rules in all of sports. 3) Thanks to that extra time, MSU was able to launch a prayer towards the goal line…and we all know what happened after that. But what in the world was Wisconsin WR Jared Abbrederis doing in on defense? Why do coaches always think that an offensive player has a better chance of defending against the hail mary than an extra defensive back? I'm not trying to lay all the blame on Abbrederis, just hoping to shed a little light on a common case of overcoaching.
Quick Snaps
Falcons 23 Lions 16 – Matthew Stafford may be seriously hurt and Ndamukong Suh is a bully. So what's new? Actually, I think we are all hoping that Stafford's lower leg injury ends up being fairly benign. Without him, that Thanksgiving Day game against the Packers becomes a whole lot less interesting. If the Lions swoon continues, it's going to be much harder to convince the wife and extended family that I'm unavailable for a last minute ingredient run due to a 1230 start from Ford Field.
Jets 27 Chargers 21 – Something just ain't right with Philip Rivers. He was trying to squeeze the ball into double coverage all afternoon and that last drive he conducted was so out of tune that I began to wonder if the Chargers ever practiced the two minute drill. And wouldn't it be just my fantasy football luck for Rivers to continue posting rather pedestrian numbers. On the other hand, Darrelle Revis played well again and we can only hope that Francesa has him back on the show sometime this week.
Chiefs 28 Raiders 0 – Well that didn't go so well. If you're the Raiders you have seen better days. If you're Kyle Boller your days in Oakland may be numbered. And if you're Carson Palmer, you've got a lot of work to do before regaining the confidence of Raider nation. The two Oakland QB's combined for 6 total interceptions yesterday, 1 more than Cincinnati Benglas rookie signal caller Andy Dalton has thrown all year. Is it possible for a team to win even during their bye week?
Broncos 18 Dolphins 15 – You win Tim Tebow, you win. We're all mere mortals simply just awaiting your instructions.