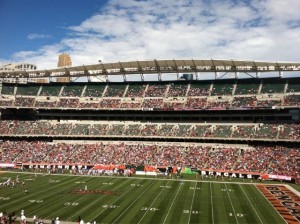 Before we pull the trigger on a week 4 recap, it must be October in the NFL as players, coaches, and officials alike began adorning a variety of pink garments in support of Breast Cancer Awareness Month. My eyes weren't nearly as strained by any of the well intentioned accessories – even the whistles – and find the pink towels much more palatable than the pepto-bismol bats MLB uses for a very similar cause on Mother's Day.
Quick Snaps
Lions 34 Cowboys 30 – So maybe Tony Romo can't close after all.
Bengals 23 Bills 20 – Mike Nugent didn't seem all that excited after he kicked the game winning FG to lead the Bengals over the formerly undefeated Buffalo Bills. Perhaps his lack of exuberance was due to the noticeable fact that there were plenty of good seats still available at Paul Brown Stadium. Was this apathy for a mediocre franchise or more indicative of the tough economic times on the Ohio River?
49ers 24 Eagles 23 – The best thing that can happen to the Philadelphia Eagles is for the Philadelphia Phillies to reach the World Series. That way, the "fans that booed Santa Claus" won't channel as much energy and blinding venom towards a campaign to fire Andy Reid. I'm sure firebigred.com is already a hot commodity with Go Daddy.
Giants 31 Cardinals 27 – Eli Manning, like most quarterbacks, is a totally different quarterback in a dome. Would his older brother Payton be as prolific a passer if he spent his entire career outside in the Meadowlands instead of indoors at the RCA Dome now Lucas Oil Field?
Chiefs 22 Vikings 17 – As Buster Olney suggested on twitter, maybe the Vikings should consider trading RB Adrian Peterson in a "Hershel Walker" type deal instead this time around Minnesota ships the superstar in return for a gluttony of draft picks. Also, do you really need to keep trotting Donovan McNabb's carcass out there when you have Christian Ponder, your QB in waiting, holding a clipboard on the sidelines?
Patriots 31 Raiders 19 – Tom Brady gets a much needed haircut and the Patriots transform into a running team. Stranger things have happened but one things for sure, unless New England keeps chewing up yards on the guard, and develops a consistent pass rush, they're still a long way from New Orleans.
Packers 49 Broncos 23 – Quite a weekend for the state of Wisconsin. First the Badgers take it to Big Ten newbies the Nebraska. Then the Brewers go up 2-0 in their NLDS series with the Diamondbacks before the weekend was topped off by a record setting fantasy performance by Aaron Rodgers and the Packers. Good news for me, the team I played started Jay Cutler.