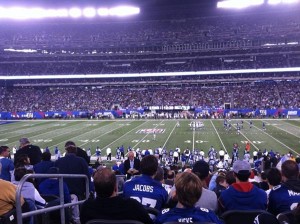 Almost as good as the day it was made.
i. Are the Patriots really the best team in the NFL? Sure, their offense is like something out of Pleasantville, but the defense has more flaws than Floyd Mayweather's tax returns. Let's wait and see how the New England secondary fairs against the undefeated Buffalo Bills/Ryan Fitzpatrick juggernaut before handing Bill Belichick his 4th Lombardi Trophy. Also, those faint whispers you hear off in the distance are all that remains of the Tedy Bruschi/Chad Ochocinco tweet off. I swear, WEEI was more than partially responsible for overblowing this non story. Anything to take the focus off the epic Red Sox collapse.
ii. At the start of the season, I set the over/under at 4 games before Mike Vick went down with an injury. Needless to say, I wasn't surprised when the Eagles star QB went down with a minor concussion in the 3rd quarter of last night's game vs Atlanta. And I know what you're all going to say, there is no such thing as a "minor" concussion. For those scoring at home, minor concussion ranks just behind "forward lateral" and "student athlete" as the best football oxymoron.
iii. Betting against the Steelers to cover the -14.5 was almost as stupid as my decision not to wear an undershirt at my sister's summer wedding. When the heat didn't end up breaking by 5:30 I was left looking and smelling like a pint of Ben and Jerry's ice cream.
iv. Congratulations to the Chiefs for officially becoming the team in 2011 that everyone picks against in their suicide pools and fantasy leagues. Although, to be fair, KC has been completely decimated by season ending ACL's. So if you're not a fan of head coach Todd Haley, this is your lucky year. Somewhere in Gainesville, Charlie Weis is grinning.
v. I'm happy for Cowboys WR Jesse Holley. His rags to riches story is why we love watching sports. But, the celebration after the catch has got to go. He looked like some sort of preverse cross between Sexual Chocolate and Sergeant Elias gafter he was shot down by Tom Berenger.
view from Met Life stadium courtesy of @ItsMarisaRoss