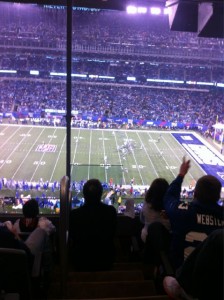 Week 17
Packers 45 Lions 41 – Lots at stake in this game as Detroit needed a win to avoid playing the Saints in round 1 of the NFC playoffs while Packers backup QB Matt Flynn needed a big game to cash in as a free agent this summer. I guess you could say 480 yards and 6 TDs qualifies as a big game.
49ers 34 Rams 27 – San Fran locked up the #2 seed in the NFC playoffs and a very likely date with New Orleans in round 2. At this point, it's pure speculation however I would imagine the Niners will be penciled in as +3.5 point underdogs at home to the Saints would should lead to all sorts of "We Get No Respect" t-shirts and signs in the Bay Area.
Dolphins 19 Jets 17 – Murphy's Law. Jets OC Brian Schottenheimer called a less than inspired game. QB Mark Sanchez looked like a lost puppy. WR Santonio Holmes stomped his feet a little bit while head coach Rex Ryan sounded a little defensive in his post game press conference. Tune into WFAN tomorrow at around 1:02 for a little NY Jets spit roast courtesy of his excellency Mike Francesa.
Bears 17 Vikings 13 – Vikings DE Jared Allen ends the season with 22 sacks, .5 behind the all time leader Michael Strahan. As Peter King pointed out, this is just one more way for Kiln, Mississippi's most recognizable wearer of Wrangler's to mess with the hearts of Vikings nation.
Patriots 49 Bills 21 – This Patriots defense reminds me of one of the funniest moments from Woody Allen's Crimes and Misdemeanors. Speaking of Woody Allen, finally watched Midnight in Paris over the holidays and I believe the entire film falls under the category of what Adam Carolla calls, "rich white guy problems".
Saints 45 Panthers 17 – I'll bet you any amount of money that when Dan Marino watches the Saints play he can't help but imagine how many yards/touchdowns he would have thrown for had he played in era that does not allow defenders to lay a finger on receivers or come within breathing distance of a QB. In this era, the combination of Marino and the Marks (Duper/Clayton) would have gone for over 6,000 yards with 50 TDs.
Eagles 34 Redskins 10 – They should have played this game on ice. What's that you say? The ice in Philadelphia is melting?
Jaguars 19 Colts 13 – Tony Dungy says the Colts will take a good, hard look at drafting Baylor QB Robert Griffin III with the first pick in the 2012 NFL Draft. The horror!!! Doesn't Dungy understand that has been Andrew Luck's birthright to one day replace an aging, decrepit Peyton Manning?
Titans 23 Texans 22 – The Houston/Cincinnati playoff game could very well be the lowest rated playoff game in NFL history.
Falcons 45 Buccaneers 24 – The Bucs might as well have forfeited the game allowing Fox to air old punt/pass/kick contests starring Andy Reid.
Ravens 24 Bengals 16 – Ray Rice is probably the most under-appreciated player in the NFL. Well, either Rice or Chiefs onside kickers extraordinaire Ryan Succop.
Steelers 13 Browns 9 – With Pittsburgh RB Rashard Mendenhall now missing next weeks playoff game in Denver, maybe head coach Mike Tomlin will finally suit up and relive some of his glory years with the ESU Timberwolves.
Chiefs 7 Broncos 3 – I can't wait for the John Elway/John Fox combo to issue their latest passive aggressive vote of non confidence to Denver QB Tim Tebow.
Chargers 38 Raiders 26 – I for one am extremely pleased that San Diego will not be invited to this years playoffs. I smell a 45-42 second round upset over the Patriots.
Cardinals 23 Seahawks 20 – Arizona finishes the season 8-8. Back when Mike Singletary was coaching the 49ers, .500 was good enough to win the NFC West.