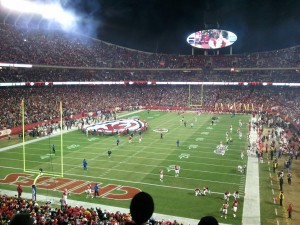 Falcons 24 Vikings 14 – I'll give Christian Ponder and Percy Harvin credit, they made this game much closer than most people thought. Your move Saints/Giants.
Bengals 23 Browns 20 – Peyton Hillis is alive and well but not healthy enough to lead the Browns past Andy Dalton and the Bengals. For Cleveland, is it time to start thinking about how Matt Barkley will look in orange/brown?
Titans 23 Buccaneers 17 – Did I call it or did I call it? I told y'all that Chris Johnson was going to bust out and I do believe 23 carries for 190 yards qualifies as a breakout performance. Poor Raheem Morris. Maybe it's time to dust off the old resume after all.
Panthers 27 Colts 19 – You know what they say, horseshoes and hand grenades.
Cardinals 23 Rams 20 – How long before Arizona returner extraordinaire Patrick Peterson starts getting the Devin Hester treatment? Also, 228 yards! Who knew Beanie Wells had it in him? I guess the Ohio State alum wasn't too affected by his alma-mater's loss to Michigan Saturday.
Jets 28 Bills 24 – First, Stevie Johnson mocks Plaxico Burress during a TD celebration and then the Buffalo WR drops a crucial pass from Ryan Fitzpatrick which could have led to a Buffalo score and an improbable last second comeback over the jets. I guess you could say Stevie put his foot in his mouth or rather, shot himself in the hands.
Texans 20 Jaguars 13 – I feel for Matt Leinart, I really do. If his season has really come to a close after only one start, I guess it helps to know that he has already made over $20 million serving primarily as a backup QB. I'd say that kinda cash is worth a broken collarbone now and again.
Raiders 25 Bears 20 – I was riding with Caleb Hanie until his 3 interceptions, and 6 Sebastian Janikowski FG's, did the Bears in. It's going to be very close between the Falcons/Saints/Lions/Giants/Cowboys/Bears for the final playoff spot.
Redskins 23 Seahawks 17 – Rex Grossman just proving all the haters wrong once again.
Patriots 38 Eagles 20 – The Patriots secondary made Vince Young look like second coming of Randall Cunningham early on but eventually settled down long enough to allow Tom Brady and the New England offense to take over. Speaking of over, could this be the end of Andy Reid in Philly?
Broncos 16 Chargers 13 – Who goes first: Andy Reid or Norv Turner? I say Reid, the venom in Philly is much more paralyzing than in San Diego. And Tim Tebow, no postgame handshakes for John Elway until he fesses up and admits that he doesn't want you to be the Broncos long term solution at quarterback.