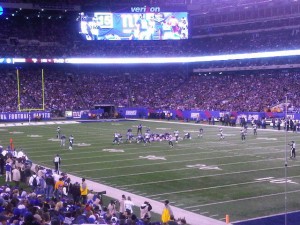 NFL WEEK 11 – SUNDAY RECAP
Browns 14 Jaguars 10 – The good news is that, unless you have Direct TV, this game was probably only on in two markets and I'm still not even sure if Jacksonville is aware that they have a professional football team.
Lions 49 Panthers 35 – Matthew Stafford threw for 5 TD's as the Lions took care of business against the Panthers as they now prepare for their biggest Thanksgiving Day Game perhaps ever. With the undefeated Packers coming to town this Thursday, Detroit has a chance to show the national television audience that they are for real for the first time since the retirement of #20.
Packers 35 Buccaneers 26 – Speaking of Green Bay, the Bucs made this game on the Frozen Tundra much closer than most of us anticipated. But in the end, Aaron Rodgers played like Aaron Rodgers and the 10-0 Pack now prepare to feast on a little Turducken.
Dolphins 35 Bills 8 – Maybe Matt Moore is the long term answer at quarterback for the suddenly 3-7 Miami Dolphins. For Buffalo, 4-1 feels like eons ago and if things keep trending downward, look for Buffalo to switch uniforms again before next season.
Raiders 27 Vikings – Oakland was able to hold on for dear life in the Ponderosa as the Vikings mounted a valiant comeback only to fall a little short thanks to the rookie play of rookie quarterback Christian Ponder. Here's hoping Adrian Peterson isn't too hurt as he continues to show us all that great running backs can continue to run hard even after signing lucrative contract extensions. (We're looking at you Chris Johnson.)
Cowboys 27 Redskins 24 – Tony Romo continues to impress as the Cowboys needed all the skill and talent they could muster to outlast the surprisingly spunky Redskins. Hold tight Washington fans, help in the form of Peyton Manning is coming next season. (No I don't have any insider info but when this now rumor does come to fruition next offseason, I would like at least partial credit for calling it all the way back in October.)
Ravens 31 Bengals 24 – Late last night, during the second half of the USC/Oregon game, a little twitter hyperbole took place as a few notable football pundits like Peter King, lined up to praise Matt Barkley and begin to question if the Trojan quarterback might just as well turn out to be a better pro than the anointed one Andrew Luck. I liked what I saw from Barkley last night, but if we're going to talk about an "under the radar" college quarterback who could end up being the goods in the pros, look no further than Waco, Texas and Baylor star Robert Griffin III. Dude is electric.
Seahawks 24 Rams 7 – In any other season, the NFC West would be the Seattle Seahawks to lose. And poor Sam Bradford. Are the St. Louis wide receivers that bad or do the Rams need to look for another franchise QB?
49ers 23 Cardinals 7 – A Happy Harbaugh Day to the brothers Harbaugh as Jim Harbaugh brings his 9-1 49ers into Baltimore to take on brother John Harbaugh and the 7-3 Ravens on Thanksgiving night. Apologies in advance if you do not get the NFL Network.
Falcons 23 Titans 17 – Jake Locker the future is now. Well, probably in a few years as Tennessee starting QB Matt Hasselbeck will probably be back next week after suffering a minor arm injury against Atlanta. The Falcons look to be one of 4 teams along with the Cowboys, Bears, Lions battling for the 2 wild card spots.
Bears 31 Chargers 20 – Speaking of Chicago, Jay Cutler took care of business once again as the Bears look like a legit obstacle in the Packers path to perfection. And Philip Rivers, enjoy the bench as I'm poised to announce Big Ben Roethlisberger as my fantasy starter for the remainder of the season.
view from MetLife Stadium courtesy of @wcv76