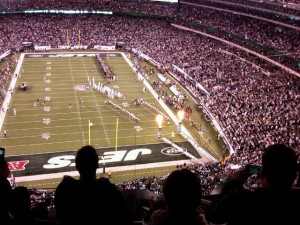 Steelers 24 Bengals 17 – Kudos to the programming wizards over at CBS for having the good sense to switch out of the Cowboys/Bills blowout and send the viewing audience to a much more competitive game in Cincinnati. This was my first time watching Andy Dalton play quarterback for the Bengals and I have to say, even though his team lost to the Steelers and he threw a killer interception late in the 4th quarter, the rookie carries himself with the presence of a 10 year veteran. Now if we can only convince him to dye black tiger stripes across his red hair.
Cardinals 21 Eagles 17 – What CBS did right, FOX did incredibly wrong. With Arizona on the 1 yard line and about to go up late over the heavily favored Eagles, FOX made the inexcusable decision to switch over to the start of the Giants/49ers. Now, I understand that I live in a New York market but someone needs to tell me how it makes sense to take viewers away from the exciting conclusion of a major upset just so we can listen to Joe Buck introduce the 49ers starting offensive line. I would find this decision curious even I were the most diehard Giants fan.
Cowboys 44 Bills 7 – I asked my buddy Casey, a huge Bills fan, if he has any buyers remorse regarding quarterback Ryan Fitzpatrick who, after signing a $60 million extension with Buffalo, has put together back to back stinkers against the Jets and now Cowboys. His response, "he's a heck of a lot better than Rob Johnson, Alex Van Pelt, Trent Edwards, Kelly Holcomb, and J.P. Losman". Well played kind sir, well played.
Saints 26 Falcons 23 – If Atlanta ends up missing the playoffs this season, many Falcons fans will look back to the questionable decision to go for it on 4th and 1 from their own 29 yard line in overtime as the reason to why their team is watching the football postseason from their sofas. For his transgressions, Mike Smith will not be allowed to shop at the Home Depot until after the holidays.
Dolphins 20 Redskins 9 – From leaders in the Andrew Luck sweepstakes to feisty favorites, this Miami team is shaping into a potential playoff spoiler. Could be that the Dolphins determine the final hierarchy in the AFC East this season.
Broncos 17 Chiefs 10 – Tim Tebow only completed 2 passes yet Denver somehow managed to beat KC thanks mostly to a dominant performance by the defense. To be fair, the Broncos only called 8 passing plays all game. It's almost like John Fox wants Tebow to fail so that the Bronco fans will get off his back about playing the popular icon. The fact remains, the more Tebow wins, the more likely he becomes a part of the future in Denver.
Bears 37 Lions 13 – Heading into this game, I really liked Chicago's chances against the Lions, even though Detroit was coming off of a bye and the Bears were still recover after a hard fought win over the Eagles. There's something missing with this Lions team – like a reliable running game – and their chippy attitude isn't winning over many fans.
49ers 27 Giants 20 – The Niners are now pretty much assured of at least a #2 seed in the NFC playoffs and with only one loss, could overtake the presently undefeated Packers for the top spot. If San Fran were to host Green Bay in the NFC Championship Game, how much would the Packers be favored by? -3.5?