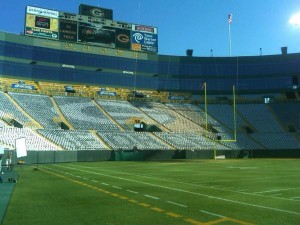 Nothing gets me jazzed up quite like the start of another NFL season and the weekly picks post. As usual, it's probably best if these picks are taken with a grain of salt for I'm dealing with a severe lack of insight and insider knowledge.
Week 1 (home team in CAPS)
New Orleans (+4) over GREEN BAY – This is a three point game either way. Also can't remember a better Thursday night opener than this matchup between the last two Super Bowl champs. You think Lambeau Field is ready for this game? In honor of the opener, Wisconsin Governor Scott Walker has offered extended furloughs to all state employees. Oh wait, that's NOT just because of the start of the NFL season? My bad.
Pittsburgh (+2.5) over BALTIMORE – What if I told you that the Ravens may not even finish second in their division? Or that David Garrard finishes the year as the Baltimore starting QB. And what if I told you that I just finished Season 2 of The Wire? I'm a little late to the party I understand, but I'm trying to catch up in a shallow attempt to regain some sort of street cred and also to help me understand what in the hell Jason Whitlock and Bill Simmons are talking about.
TAMPA BAY (-1.5) over Detroit – Just let your soul glow!!! (Yes, I know, I've used this Josh Freeman looks like Eriq La Salle from Coming to America before but when something works it works.)
Atlanta (-3) over CHICAGO – Some of you may remember that earlier this summer I made a pledge to not make fun of Jay Cutler and the "knee injury" that occurred during the NFC Championship game against the Packers. However, in the absence of anything really interesting to say about the Bears or this game, let me just point out that the Bears have in fact installed 4 new exercises bikes on the 40 yard line.
Buffalo (+5.5) over KANSAS CITY – I smell a revival for the Bills and the entire city of Buffalo. If Pittsburgh can turn itself into an affordable hipster alternative to Brooklyn/San Fran, what's stopping Buffalo from emerging as the next trendy haunt? I'm also riding these sweet new Bills uniforms until the first Fitzpatrick interception returned for a touchdown.
Indianapolis (+8.5) over HOUSTON – Texas, we've had our differences before but if I could, I would bottle up all the rain we're getting here in the northeast and ship it down to the parts of your state hardest hit by the ongoing drought/fires.
Philadelphia (-5) over ST. LOUIS – Lots of "pickers" smell an upset brewing in STL this weekend which is usually enough of a reason to stay away from this game completely.
Cincinnati (+6.5) over CLEVELAND – Upset special!!!! Upset special!!!! Bengals 17 Browns 14. Andy Dalton becomes the most popular red headed athlete in Cincinnati since Bobby Brannen.
Tennessee (+2) over JACKSONVILLE – Put me with the group of people who don't think the Titans will be as bad as everyone else is saying. Also, do you really want to put your faith and money in the trusted right arm of Luke McCown?
NY Giants (-3) over WASHINGTON – I'm making Rex Grossman earn it for at least the first week.
ARIZONA (-7) over Carolina – Tough position for the rookie Cam Newton. He will however be starting his first career NFL game in the spot where he won the BCS National Championship with the Auburn Tigers last January.
Seattle (+5) over SAN FRANCISCO – Let the battle for Andrew Luck begin!
Minnesota (+8.5) over SAN DIEGO – Philip Rivers use to be my least favorite QB in the NFL but now that he's on my fantasy football team, I feel like I should probably root for the guy to put up some big numbers. But don't expect me to like it.
NEW YORK JETS (-4.5) over Dallas – At a neutral site this game is probably Jets (-2.5) but since this game will be played in the Meadowlands on the 10 anniversary of 9/11, (-7) for the team from New York feels about right.
New England (-7) over MIAMI – Usually this game is played under much more adverse conditions when the South Florida sun is blazing and the Patriots defense gives up a late TD. But 7pm Monday night is an ideal time for the high powered NE offense to kick into gear.
DENVER (-3) over Oakland – It's not often that a 4th string QB has one of the highest selling jersey's in the NFL.
view from Lambeau Field courtesy of twittaholic @darrenrovell