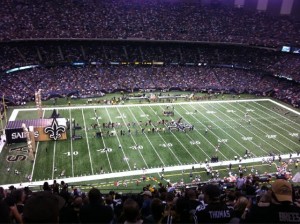 If the Buffalo Bills were able to hold on against Baltimore and beat the Ravens, nearly every contestant in a weekly lock pool would have been knocked out of their contest.  In my league, nearly 2/3 of the remaining 39 participants were taken out by the Saints and Broncos.  I was one of the lucky 12 to take Baltimore and remain alive by the narrowest of margins.
And how long will the Super Bowl hangover last in New Orleans?  The Saints remain very unpredictable and may struggle to keep up with the emerging Atlanta Falcons.  I have no idea what to make of the Raiders 59-14 shalacking of Denver in Mile High.  Where did Darren McFadden's performance (165 rushing yard, 4 TD's) come from?  He hasn't had a game like this since he was running the "Wild Hog" in Arkansas.  With Kansas City and Oakland running 1-2 respectively, the AFC West has turned over on its axis.
Who do people feel is the team to beat in the NFC?  Falcons?  Eagles? Giants? Seahawks?  Share your views.