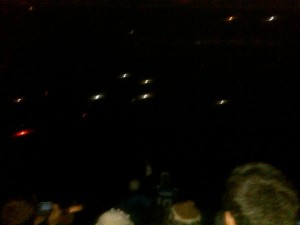 …and the same could be said for the NY Giants who were completely trounced by the lowly 1-7 Dallas Cowboys by a final score of 33-20.  Everyone was surprised by the outcome of yesterday's game including the operators of the New Meadowlands Stadium, who, for their part, did all they could to ensure that the national TV audience would be unable to witness what was transpiring on the field.
Do not be alarmed, this is an actual image taken from yesterday's Giants/Cowboys game at the New Meadowlands Stadium.  The blackout lasted for a mere 30 seconds or so before power was gradually restored throughout the stadium.  The game itself was delayed by a total of 12 minutes, which, was not nearly as long as the Giants would have liked considering the final score.
In other NFL news, the Mark Sanchez led Jets won their second overtime game in a row, defeating the Cleveland Browns by a score of 26-20.  The Patriots were able to stay atop the AFC East alongside the Jets with their 39-26 dismantling of the Pittsburgh Steelers on Sunday night.
What impressed you the most about Week 10 in the NFL?  Share your views!