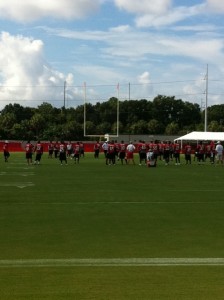 From here on out until the start of the NFL regular season on Thursday September, 8th, VMS will be offering quick overviews of each division, one NFC and one AFC per week. First up, the NFC South (*denotes playoff team)
NFC South
Champs: New Orleans Saints* – Mark Ingram stabilizes the running game while Drew Brees and the passing attack continue to throw lots and lots of beads at the Superdome faithful.
On Deck (next up): Atlanta Falcons* – Last years NFC South champs are in now or nothing mode, which explains why they would trade away 5 future draft picks in order to select Julio Jones this year, especially when the Falcons are presumably already loaded at the wide receiver position. Also, can we please come up with a different nickname for Matt Ryan?
Limbo (neither up nor down; stuck in between): Tampa Bay Buccaneers – Tough, veteran centric division for this young, hungry Bucs team to break through against. Really looking forward to Josh Freeman unleashing his soul glow in South Florida again this season.
Chumps: Carolina Panthers – Ron Rivera please do your fans a favor by starting quarterback, and #1 overall draft pick, Cam Newton. Greater Charlotte simply should not be subjected to a single series of either the dour Jimmy Clausen or lethargic Derek Anderson. At least Newton will make exciting mistakes.
Fantasy Sleepers: Harry Douglass (WR-Atlanta), Josh Freeman (QB-Tampa Bay), Greg Olsen (TE – Carolina)
Ready for Primetime Games: 9/8 New Orleans @ Green Bay, 9/18 Philadelphia @ Atlanta, 10/9 Green Bay @ Atlanta, 10/16 New Orleans @ Tampa Bay, 12/26 Atlanta @ New Orleans