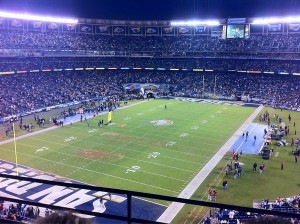 As expected, last night the San Diego Chargers took care of the Denver Broncos 35-14 in front of a sellout crowd in Qualcomm Stadium.  The Chargers are now a game behind the AFC West leading Kansas City Chiefs.  I'm not surprised to see San Diego fighting their way back into contention.  If they win again next Sunday night in Indianapolis, it will be hard to leave them out of the next power poll.
1. New England Patriots (8-2): Should be 9-2 heading into Dec 6th division battle with the Jets.
2. Baltimore Ravens (7-3): Next two games (Bucs and Steelers) will be played at home.
3. Green Bay Packers (7-3): Defense seems to be improving by the week.  Aaron Rodgers may be playing as well as any QB in the league right now.
4. New York Jets (8-2): Santonio Holmes has become the favorite late game target for the precocious Mark Sanchez.
5. Atlanta Falcons (8-2): Winning on the road in St. Louis is not as easy as it use to be.  Roddy White deserves consideration for offensive player of the year.
6. Pittsburgh Steelers (7-3): It didn't look to me like Richard Seymour hit Ben Roethlisberger all that hard.  Punch was probably worth the 25K fine.
7. Philadelphia Eagles (7-3): How does Michael Vick possibly stay healthy for the duration of the season?
8. New Orleans Saints (7-3): Don't count out the champs who are primed for a late season run.
9. Tampa Bay Buccaneers (7-3): Does someone in Vegas want to explain why the Bucs were underdogs in San Fran this past week?
10. Indianapolis Colts (6-4): Should still be considered the favorites to win their division.  Not a team, or QB, that anyone wants to face in the playoffs.
Share your views.