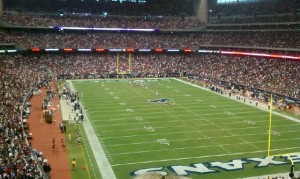 St. Louis (+15) over GREEN BAY – For some strange reason I'm enjoying this new Aaron Rodgers/State Farm Insurance commercial. Granted, it's not of the same ilk as the Dan Marino/Isotoner spots from the 80's but still, it had me chuckling. It also got me thinking, who is the least marketable starting QB in the NFL? I'd say it's a tie between Blaine Gabbert and Donovan McNabb. Gabbert because he's still so young and McNabb because nobody eats Campbell's Chunky Soup anymore.
PITTSBURGH (-12) over Jacksonville – At what point does it become fair to compare the career arcs of Sidney Crosby and Eric Lindros? Both physically talented players were considered saviors in the NHL but had their time on the ice cut short by concussions. Of course, in the case of Crosby the story has yet to be written as we all await his eventual return to the ice. I for one hope he makes it back in time for December 1st when the Penguins visit the Capitals. I'll be in DC for the weekend and have already started scheming my way into the arena. Of course, if you know of anyone with an extra ticket, feel free to email me with the details.
Philadelphia (-1.5) over WASHINGTON – Speaking of Washington, the Redskins have a legitimate shot of winning the NFC East. Maybe we were all a little quick to judge the aptitude of QB Rex Grossman after all. (Note: How many of you think that I end up regretting this last statement by the end of the season?)
DETROIT (-4) over San Francisco – At the start of this NFL season, who would have thought that this matchup would be arguably the best game of week 6? Also, if you have a chance, check out the pattern Calvin Johnson ran against the Bears to score that long touchdown in the first half of Monday Night's Game from Detroit. He ran one of the laziest looking fly patterns I have ever seen, yet the Chicago secondary barely laid a finger on big #81 until it was too late and Megatron was already busy receiving "good seasons" from an over zealous auto plant worker in the Ford Field stands.
ATLANTA (-4) over Carolina – The NCAA has cleared Auburn of all charges in the Cam Newton pay for play scandal. Good news for Cam Newton but even better news for Tigers head coach, and personal fitness guru, Gene Chizik who continues his quest to ease War Eagle's suffering after their tree was poisoned by a group of Crimson Tide loyalists.
INDIANAPOLIS (+7) over Cincinnati – Dare I say upset special? Why was it such a problem that Colts owner Jim Irsay talked about how, if given the opportunity, Indianapolis would draft Andrew Luck? Doesn't it go without saying that whichever NFL team ends up with the top pick in 2012 draft that they will take the Stanford QB? Is there an NFL team out there that wouldn't either make Luck the face of their franchise or trade the pick away to another team for a kings ransom?
NY GIANTS (-3.5) over Buffalo – The Gaints, and Eli Manning in particular, might be a better team on the road than at home. Speaking of the Meadowlands, the other night I was flipping back and forth between the ALCS and Hoffa starring Jack Nicholson and Danny DeVito and two things stood out: 1) Nicholson looks nothing like Jimmy Hoffa and 2) DeVito, who both directed and starred in the film, is really short and much funnier in It's Always Sunny in Philadelphia.
Houston (+7.5) over BALTIMORE – The torn pectoral muscle is the new ACL. In the span of a single week, Texans defensive end Mario Williams and Nebraska nose tackle Jared Crick each inured a chest muscle, ending both of their seasons. Each will make a full recovery but this does raise a fair question: why are so many football players coming down with this rather bizarre injury? The pessimist in me believes that this rash of torn pectoral muscles has to do with the fact that more players are taking performance enhancing drugs like HGH. The sports scientist in me says that these injuries are due to over conditioned athletes who may or may not be hydrating properly. Either way, the Houston Texans are playing this weekend without their star DE and WR which spells trouble until you realize that Joe Flacco is still the quarterback for the Ravens.
Cleveland (+6.5) over OAKLAND – Sounds like Raiders backup QB Terrelle Pryor harbors a desire to still be playing for the Ohio State Buckeyes. And to be fair, I'm sure OSU would love to have him back as well, especially considering what happened last weekend in Lincoln, NE.
NEW ENGLAND (-7) over Dallas – I wish this game were being played on Thanksgiving. In other news, one of my bosses called me in to work Sunday afternoon between 2:30-4:30. Don't these people understand that there's football to be watched? The instant you become a boss do you forget what it's like to be a mid-level employee? I think a union needs to get involved involved before things spiral out of control and I go all sorts of postal on the company copier.
TAMPA BAY (+4.5) over New Orleans – Glas to see that Saints safety Roman Harper was fined after his cheap shot on Panthers WR Steve Smith. Doesn't Harper understand that the "after the whistle late hit" has already been patented by Brandon Meriweather?
Chicago (-3) over Minnesota – This Bears offensive line better get its act together soon or else Jay Cutler is going to end up back on the exercise bike. In other Chicago news, what does everybody else think about former Boston GM, and prodigal son, Theo Epstein leaving the Red Sox to take over the Cubs? Personally, I think it's a great move for all parties. The Cubs get a young Moneyballer with a proven track record of developing talent while the Red Sox cleanse themselves of all things September 2011. It's just too bad Josh Beckett was involved in this deal as well. I hear the Wrigley Field clubhouse is an excellent place to shotgun 3-4 lukewarm Old Stlye's.
NY JETS (-7) over Miami – Boy this is really a terrible terrible football game. All people are going to care about anyway is who ESPN finds to replace that narrow minded country bumpkin Hank Williams Jr. A few suggestions: 1) Manny Pacquiao 2) Faith Hill 3) Bernie Williams. As soon as this issue has been resolved, fans in New York can go back to griping about Jets OC Brian Shottenheimer and his suspect play calling. For the 14th time this week Bruce in Bayside, Mike Francesa does not have time for any of your trivial Jets nonsense!
Last week 8-5 (Overall 43-34)