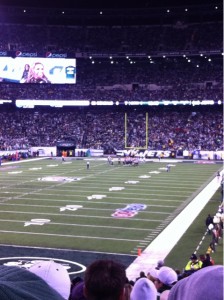 When Jon (finally) allowed me to begin contributing, he emailed me an initial password with which to log in.  That night was Wednesday and the password was "BradSmith".
Smith, dubbed by the New York Jets coaching staff "Mr. Everything", responded in kind to the lofty responsibility of having a password named after him.  First, he took an early 2nd Half end-around and scooted, untouched, 53 yards into the end zone to give Gang Green a lead they would not give back.  It's worth noting that he was, in fact, wearing two cleats for the entirety of the scoring play.  The same can not be said when B-16 took a short Cincy kickoff 89 yards to the funhouse.  About 50 yards from the end zone, Smith lost a shoe.  Seriously, he finished the return after kicking his cleat off and outrunning the last line of Bengal defenders in an athletic sock.
After finishing off the feckless Bengals 26-10, for the first time in my life, the Jets are 9-2, and will remain so for the next 11 days while the entire Northeast waits with held breath for next Monday night's "Game Of The Year " against the 9-2 Patriots, who devoured a feisty Lions squad 45-24.
Over the course of the coming week, next Monday's game is going to receive its fair share of dissection. A lot will be said about the two quarterbacks. Mark Sanchez has been elusive, creative, and brilliant at times during his sophomore season. Tom Brady has a triple-figure passer rating and hair straight out of a Nickelback video. The Patriots offense is decidedly short on weapons, and it seems that's the way they like it, having jettisoned one of the best deep-threat wide receivers in the history of the sport. Their register of non-household names just seems to keep rolling, racking up points like the scoreboard operator is the enemy.
See you next Monday night, football fans! Share your views.