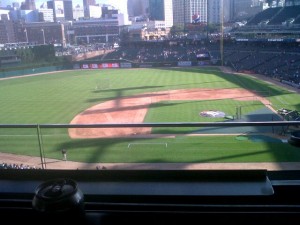 In honor of recently demoted/budding baseball superstar Logan Morrison, and his esteemed twitter alter-ego @LoMoMarlins, we have compiled a list of the MLB players with the highest number of twitter followers by position and then gauged whether or not these totals are commensurate with their personality/on field baseball ability. Big thanks to the aggregators over at Tweeting-Athletes.com for giving our neural-net processors a big timeout.
Starting Pitcher – CC Sabathia (New York Yankees, 137311 followers): Sabathia's popularity makes sense, he is after all one of the leading contenders for the AL Cy Young award this season. Also, overstuffed athletes always resonate well with fans probably because they remind many Americans of themselves.
Catcher – Russell Martin (New York Yankees, 49560): Here we have a classic case of big market ballot stuffing. Sure, Martin is enjoying somewhat of a career renaissance during his first year in the Bronx but he should not be the most popular catcher on twitter. If Joe Mauer's parents allowed him to but that cellphone last Christmas we wouldn't even be having this conversation.
First Baseman – Mark Teixiera (New York Yankees, 80860): Same song and dance as before. I'm starting to wonder whether or not people from outside of NYC even have access to social media. Where's my coast to coast publicly financed WIFI umbrella President Obama?
Second Baseman – Brandon Phillips (Cincinnati Reds, 135358): DatDudeBP engages his followers like no other, often times asking them where he should go for good Mexican food in Atlanta. If you play your cards right, he may even offer to pick up the tab on your $2 burrito as well.
Third Baseman – Evan Longoria (Tampa Bay Rays, 56224): Would it help or hurt Longoria's twitter credibility if he talked more openly about being the once proud owner of an AK-47?
Shortstop – Jimmy Rollins (Philadelphia Phillies, 45672): I wonder if it's going to be super awkward for Rollins when the Phillies sign Jose Reyes to take over at shortstop in 2012. Good luck attracting 40K followers in Seattle next season.
OF – Nick Swisher (New York Yankees, 1365390): What a rascal that Nick Swisher. Always so darn happy to be playing baseball. And talk about post game polish. I can see Kim Jones overheating through my television screen right now. Part of me wishes that Swish never made it to New York, only then would we really know if Billy Beane would allow for an Oakland A to amass over one million followers on twitter. You know those crazy sabermetricians and their numbers.
OF – Jose Bautista (Toronto Blue Jays, 11525): These numbers are no doubt inflated due to the use of performance enhancing software and malicious spyware used to pick up the cellphone signals of fans in the Rogers Centre.
OF – Jason Heyward (Atlanta Braves, 85633): Did I hear that Heyward was benched last week? Maybe he should have gone to Harvard for a year or two after all. The Ivy League could have really taught him a thing or two about writing succinct, descriptive 140 character or less prose.
Closer – Brian Wilson (San Francisco Giants, 288505): The beard alone is worth at least 100K followers making it the most valuable facial hair since the LeBron neckbeard. But seriously, have you ever heard Brian Wilson talk? Not stupid. In fact, I would wager to say that he is one of the smartest, most well read players in all of MLB. Strange then that he makes himself look like the zodiac killer on steroids.
Manager – Ozzie Guillen (Chicago White Sox, 165578): I can't wait for Guillen to manager the Miami Marlins in 2012 when he and Logan Morrison will use twitter to challenge each others machismo on a daily basis. We can only hope that somehow Ozzie's son, Oney, will be involved in the nightly round table as well.
view from Comerica Park on the night Jim "Country Strong" Thome hit #600 courtesy of @MC_Biebs