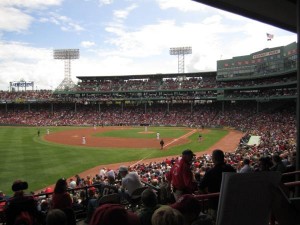 I spent my early Sunday afternoon not watching football at the Brooklyn Flea Market. Why you ask would I subject myself to such obvious distraction? Well, as it turns out, the flea market isn't just peddling second hand wares, it was also a gathering for some of the boroughs finest food carts. I will look back on this day and remember the pastries from Dough and fish tacos from El Diablo Taco Truck. Both were much more satisfying than the first half of New York Jets vs Jacksonville Jaguars.
A Quick Trip Around the Bases
1B – To say Joe Mauer had a disappointing season would be a gross understatement. Mauer, who the Twins deactivated for the remainder of the season after coming down with a case of the midwestern pneumonia, ends his season with a .287 average adding 3 HR and 30 RBI over 82 games. I don't think this is what Twins fans had in mind when Minnesota signed the home grown catcher to a unprecedented 8 year $184 million contract in 2010. With EJ Manuel hobbled, maybe it's not too late for Mauer to quarterback the Florida State Seminoles after all.
2B – Why would Prince Fielder decide that now is the time to share with us that he is "probably" in his last year with the Milwaukee Brewers? The Brew Crew are inches away from capturing the NL Central title so now is obviously not the best time for their star first baseman to weigh in on eventual free agency. Also, why make this announcement on TBS? I thought the superstation only ran reruns of NCIS and King of Queens.
3B – Ozzie Guillen for Logan Morrison? Sure, why can't you try and trade a manager for a player? Makes sense for all parties involved. Marlins get the manager of their dreams just in time to "fill" their new stadium while the White Sox get a young outfielder who will bring along his twitter followers. What could possibly go wrong with this scenario?
HR – Oh, and just in case you thought I forgot, the Red Sox are now only two games in front of the Tampa Bay Rays for the AL Wild Card. But who's keeping track anyway?
Extra Bases – Sunday was a perfect example of why I don't gamble on individual football games. I'm part of a weekly pool where we pick winners for every game based on the spread. It's a fairly low stakes pool, with not much more on the line than some bragging rights with my dad and his coworkers. Yesterday was one of those days where I picked a lot of winners, but those teams managed to cover the spread on only a handful of occasions. The dagger for my day had to be when Dallas, favored by 3.5, completed a pass to rarely used Jesse Holley who carried the ball all the way down to the San Fran 1 yard line before being caught from behind by a 49ers defensive back. Another yard and the Cowboys win and cover. However, rather than run the risk of fumbling on the goal line, Dallas decides to kick the game winning field goal on first down and I, along with thousands of others, lose out. This is why I don't bet on football on individual football games.
view from Fenway Park courtesy of @MichaelDola