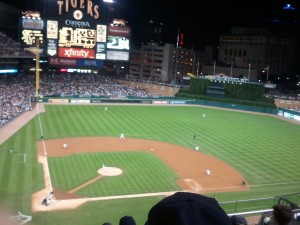 Ahhh Labor Day. One of my favorite made up holidays of the year. What exactly are we honoring by not working today? If we were truly trying to pay tribute to the economic and social contributions of workers, shouldn't we be working? Also, this just in from Madison, Governor Scott Walker has cancelled all state sponsored Labor Day events in Wisconsin. Apparently he didn't want to send any mixed messages to the thousands of union members who have already lost all collective bargaining rights.
Surprisingly, that's not the biggest story coming out of Badgerland this weekend. No, Wisco is a flutter with Heismania for Badger QB Russell Wilson who led UW to an impression victory over UNLV Thursday Night in Camp Randall Stadium. But you know how fluid awards hype can be. It was Wilson Thursday night, followed by Baylor QB Robert Griffin III Friday, and now after his performance Sat evening in the Georgia Dome, you can put Boise St. QB Kellen Moore right at the top of the early Heisman list.
Alas, it's still early September and we have lots of time to argue over who is going to win the major college football awards. Right now our time is still better served talking baseball, particularly where the final month of the regular season is going to take us.
A Quick Trip Around the Bases
1B – Everyone wants to complain about the length of these Red Sox/Yankees games and I have reached the point where I am genuinely fed up with both sides of the argument. If you can't appreciate Josh Beckett taking 2 minutes in between pitches to chew his gum while staring dimly at catcher Jason Varitek then you should watch something else. Rizzoli and Isles is beginning it's second season on TNT and remember, they know drama.
2B – This past week, in a desperate attempt to find some sort of offense, the reigning world series champs the San Francisco Giants cut ties with two veterans INF Miguel Tejada and OF Aaron Rowand. No word as to what this means for Aubrey Huff, Pat Burrell, and Mike Fontenot who are all having equally anemic seasons at the plate. Where's Kevin Mitchell when you need him?
3B – Can Albert Pujols really lead the Cardinals all the way back from nearly 10 games behind the NL Central leading Milwaukee Brewers? Is there enough time left in the 2011 season for Prince Albert to raise his average above the .300 mark making it 11 seasons in a row for him hitting .300 with over 30 HR's, and 100 RBI. Anything's possible when you're talking about Pujols. He did after all attend Maple Woods Community College in Kansas City, Missouri.
HR – Finally, September call ups give us fans of even the most inept MLB teams to catch a glimpse of the future and hopefully brighter days ahead. Of course when that future consists of players like Matt Angle and Xavier Avery, how much do we really have to look forward to anyway?
That's it everybody! Enjoy the rest of your holiday weekend and make sure to travel safe.