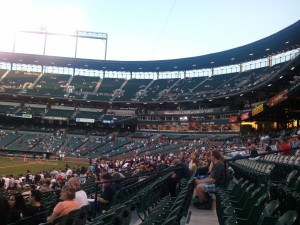 Happy to announce that this morning's musings are coming to you live from the Danbury Fair Mall in Danbury, CT. It looks like this in fact the last bastion of electricity in Fairfield County after Hurricane/tropical storm Irene sunk her teeth into the area. Not to complain however because by comparison, it seems we in Connecticut got off easy. The poor people of Brattleboro and White River Junction Vermont, not to mention several counties in northern New Jersey, will be dealing with severe river flooding for the next few days. My dad up in New Hampshire sent me an amazing video from Quechee, VT that shows an old covered bridge being completely swept away by a surging river. You have to hope that the majority of homes and businesses in the area, like the good folks at Simon Pearce, are able to survive the storm with minimal damage.
Until electricity is restored here in Southern New England, people just need to chill out and let the power company do their job. It's a small inconvenience by comparison and heading into Irene, we all thought it was going to be much worse. I can live with my next door neighbor running his generator through the night, even though the thing is so loud it sounds like the famous squash courts at the University of Chicago. I half expect Dr. Robert Oppenheimer, head of the Manhattan Project, to emerge from the shrubbery and announce: "Mr. President, we have our bomb!" But I digress…
A Quick Trip Around the Bases
1B – My heart goes out to the family of Mike Flanagan, who took his own life early last week outside his rural Baltimore, MD home. Flanagan, a New Hampshire native and Baltimore Orioles great, meant a lot to Birds fans, including my dad. In 1979, the year I was born, Flanagan had perhaps his best season in the bigs, eventually going on to win the AL Cy Young award. To this day, my father can remember rocking me to sleep after a midnight feeding while listening to Flanagan take the mound for the Orioles during a west coast swing.
Lots of folks, friends of Flanagan and sports blogs included, immediately weighed in on what could have caused the happy go lucky southpaw to take his own life. In my opinion, at this point it is careless and insensitive to speculate why Flanagan would commit suicide. What's important now is for fans to remember the person/player that Flanagan was and
2B – Oh and would the New York Yankees just please stop complaining about all the rainouts and rescheduled games . Orioles manager Buck Showalter took the Bronx Bombers to task by saying that now is not the time to complain about having to play a makeup game on September 8th, a scheduled off day for the Yankees, especially when the entire Baltimore community is busy grieving after the loss of Mike Flanagan. Showalter went on to say that if roles were reversed and a Yankee great had passed away, New York would certainly expect the same common courtesy from the Orioles.
3B – Heck with MLB baseball testing players for HGH, how about they start checking for pedialytes? Due to the incredibly high heat in the Arlington Texas area, Rangers starting pitchers have begun mainlining baby supplements before scheduled starts to avoid dehydration. I don't know about you but I can't trust any athlete who hooks into an IV before competing. How do I know whether or not there isn't some sort of illegal substance in that Gatorade frappe? Pretty soon the television cameras will be able to pick up track marks on the Rangers pitchers.
HR – And speaking of Texas, they are currently embroiled in a race to the finish with the Los Angeles Angels for the AL West crown. With the majority of playoff frontrunners already separating themselves from the rest, baseball fans aren't going to have many division races to follow this fall. Beyond the AL and NL West, and possibly the AL Central, it looks like the we already have a fairly clear picture of the 2011 postseason.