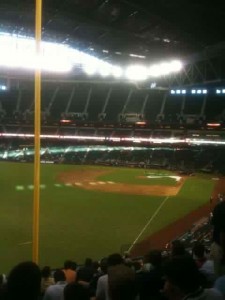 How come you never feel well rested when returning from a vacation? Here it is the Monday morning, after a wonderful week away from the hustle and bustle of the Northeast, and all I find myself asking for is another week away where I can focus on three things: sleep, food, and sun. Of course with a 6 month old son, consistent sleep is not really an option plus you have to be careful exposing babies to too much sunlight. I guess the only thing I will really miss is the food, which when traveling through the northern Midwest means lots of bratwurst, cheese curds, and craft brews. Come to think of it, maybe it isn't such a bad thing for my overall health that I'm back to a steady diet which includes at least one helping of vegetables a day.
Furthermore, because I've been semi "unplugged" for the last week or so, let me caution this tale by saying that I have kept up with the goings on in Major League Baseball primarily through my iPhone and a stealthy combination of the MLB app and twitter. To those curmudgeons out there who still believe that twitter is simply a fad or perhaps the narcissistic manifestation of youthful hyperactivity, let me tell you that people can tweet faster than the internet can refresh. And it's good useful information too not just status updates and cyber-voyeurism. For instance, because of twitter I could tell that Adam Scott winning the Bridgestone Invitational Sunday afternoon was the biggest win of caddie Stevie Williams career long before the embittered looper launched into a suspiciously subversive diatribe directed at his previous employer Tiger Woods. The precognitive power of the "twittersphere" knows no bounds. Now if we can only use it to predict just how low the stock market is going to drop this week.
Finally, as a Baltimore Orioles fan, if being unplugged for a week has taught me anything about my team it's that the more things change, the more they stay the same. When I left, the Orioles were barely treading water in the AL East basement and now, a week later, the Birds continue to sink lower and lower into the relative obscurity of professional baseball. And the saddest part about it all, much like with twitter, I knew it before it even happened.
A Quick Trip Around the Bases
1B – And speaking of the Orioles, if the Pittsburgh Pirates would like to blame anyone for their latest 10 game losing streak, which has essentially taken them completely out of the race in the NL Central, they should feel free to direct any and all animosity for their current plight towards the Baltimore Orioles. It was the Orioles after all that traded away Derrek Lee to the Pirates and since the first baseman has been in Pittsburgh the team hasn't won a single game. Apparently the "stank" emanating from the warehouse on Eutaw Street can infect other teams as well. Too bad to as I had just pledged my NL allegiance this season to the Pirates.
2B – Staying in the NL Central for a second, the Chicago Cubs, winners of 7 of their last 10, are now only 6 games behind the Pirates for 4th place in the division. Amazing really considering how bad Chicago has been this season and how promising the Pirates play had been up until the trading deadline. Speaking of trades, if you're in a MLB front office, why would you ever even consider giving a free agent a no trade clause? Look at the trouble it has gotten the Cubs in. Both Aramis Ramirez and Kerry Wood, two valuable trade chips for a team in desperate need of rebuilding, told the team that they would block any deal that sends them away from the Northside. Credit the Cubs organization for making their players feel so comfortable but shame on the front office for continuing to structure contracts that include no trade clauses.
3B – Move over Pittsburgh, hello Arizona. The Diamondbacks, now only a half game behind the NL West leading San Francisco Giants, have slowly emerged as the underdog darlings of 2011. It's highly improbable, what with the arsenal of arms in the Bay Area, that the Snakes remain in this race to the very end but it's a nice story nevertheless. And go ahead, name 3 players on the Diamondbacks roster? After Justin Upton things start to a get a little cloudy. Perhaps more folks are familiar with Arizona manager Kirk Gibson, he of "I don't believe what i just saw" fame.
HR – Shifting away from the small market, can you believe that heading into last night's Red Sox/Yankees game that both teams held a 7.5 game lead over the Los Angeles Angles in the AL Wild Card race? I understand that MLB teams are not in the habit of resting players for the playoffs, sort of like what happens in the NFL, but if there were ever a year where a baseball team could get away with it, this is that year. At this current pace the Yankees may tell Alex Rodriguez to spend a little more time rehabbing his surgically repaired knee. Well, so long as he stays away from any high stakes poker ring that also involves Tobey Maguire.
view from Chase Field courtesy of @jbroussard65