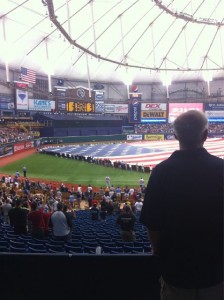 Can't promise many more baseball centric Monday Musings now that the NFL is here. I'll probably end up making it a few more weeks before taking the leap over to football. Until then, you'll have to look elsewhere for some good old fashioned Cam Newton day after fawning.
A Quick Trip Around the Bases
1B – Someone mind telling me why MLB wouldn't allow the Mets to play in FDNY & NYPD commemorative caps in honor of the 10th anniversary of 9/11? On the surface, this decision strikes me as totally out of touch with the spirit of remembrance and the healing power of baseball. Commisioner Selig has some serious explaining to do.
2B – Unbelievably, the Tampa Bay Rays have climbed all the way back into the wild card race and are poised to overtake the bruised and battle weary Boston Red Sox? With  the injuries piling up in Fenway, it's a good thing Massachusetts requires all of its citizens to have health care. You can thank Republican presidential candidate Mitt Romney for that, although, if you were to ask him now about the program he created, he would probably either deny it or say it was a mistake.
3B – As of this morning, the Detroit Tigers are only 4.5 games behind the New York Yankees for best record in the AL and home field throughout the playoffs. If the Tigers do end up with the best record in the AL, file that under the category of reasons Justin Verlander should win both the Cy Young Award and MVP.
HR – For all that has gone wrong in Dodgertown this season – see the divorce of Frank and Jamie McCourt – some credit needs to be given to manager Don Mattingly for keeping things together both on and off the field. LA has an outside chance of overtaking the SF Giants for second place in the NL West, a feat deemed inconceivable at the start of the season. It also helps that the Dodgers have a leading MVP candidate – Matt Kemp – and Cy Young frontrunner – Clayton Kershaw.
Extra Bases – Here are a couple of clips that I enjoy revisiting on and around 9/11. Use the memory of those we lost that day as yet another reason to appreciate each and every day of your life.