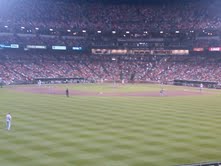 Pop quiz hotshot. – Dennis Hopper from Speed

Bottom 11, tie score, and nobody out. Leadoff hitter doubles to deep left center. Now, runner on 2nd, still nobody out, and your two hitter coming to the plate. Perfect opportunity to sacrifice bunt the runner over to 3rd base and take your chances 1 out, number 3 & 4 hitters coming to the plate. Tie ballgame and remember you're the home team needing only that 1 run to score to win. So what do you do?
What you shouldn't do is have the 2 hitter swing at the first pitch and ground out sharply  to 3rd base leaving the baserunner stranded at 2nd base with 1 out. What happens next is just as ugly. 3 hitter, your hottest bat in the lineup, flies out to right field, deep enough so that if the runner were on 3rd base instead of 2nd, he would have been able to tag up and score fairly easily. But remember, the runner is still at 2nd base because the 2 batter didn't bunt them over to 3rd with nobody out. With 1st base open, opposing team intentionally walks cleanup hitter and gets the next batter to hit into a fielder's choice. Inning over. Tie ballgame, heading now to the top of the 12th.
The hubris of some of these American League teams. What ever happened to small ball or simply just understanding a situation. The Baltimore Orioles are not in the position – last place in the AL East for what feels like over a decade straight – where they can just potentially throw a game away because they fail to adhere to basic baseball strategy. (Editors note: the Birds would go on to win this game 5-4 over the Cincinnati Reds in the bottom of the 12th on a Derrek Lee solo jack to left field.) The only satisfactory explanation Buck Showalter could have given – and I'm sorry but I didn't listen to his press conference after the game – was that with nobody out and Nick Markakis at the plate, he wanted to give a good hitter a chance with no strikes to move JJ Hardy, the runner on 2nd base, over to 3rd on his own. Since Markakis is a lefty, look for something low and in to drive to right field. Or take a strike after which the bunt sign is on. But to ground out to 3rd base on a first pitch with nobody out and a runner on 2nd in a tie ballgame in extra innings is inexcusable. Markakis, Showalter or whomever was responsible for this oversight can thank D Lee – he of the slider speed bat – for bailing them out in the 12th.
A Quick Trip Around the Bases (no more Orioles business I swear)
1B – You can imagine my amazement when I tuned into ESPN for Sunday Night Baseball only to find the Cleveland Indians taking on the San Francisco Giants. I could have sworn that the programmers up in Bristol would have gone at least one more week with only showing MLB games featuring either the Boston Red Sox, New York Yankees, Philadelphia Phillies, Chicago Cubs, or St. Louis Cardinals. But apparently they must have realized that there are in fact other baseball teams playing this season and wanted to throw a small bone to us, the disenfranchised, silent minority of fans. I'm sure we'll be back in the Bronx for Yankees vs somebody later this week. (Bitterness over starting now. NOW.)
2B – Is it possible, I repeat possible, that Prince Fielder will be a higher valued free agent this coming winter than Albert Pujols? I know, I know, who thought the day would ever come but just think about for a second. Fielder is 4 years younger than Pujols, 27 to 31, and is putting together a MVP type season – if not for Jose Reyes – for the Milwaukee Brewers while King Albert toils on the DL for the next two months recovering from a broken wrist.*  Even if the prodigious Pujols still commands a larger contract than Fielder this offseason, he is most likely going to have to settle for a 6-7 year contract instead of the ARodesque ten year deal he was maybe hoping for during spring training.
*Wrist injuries aren't exactly the type of injuries that baseball players typically have an easy time recover from, just ask Nomar Garciaparra.
3B – Too bad Washington, just when the Nationals were starting to play some pretty good baseball your manager Jim Riggleman decides to suddenly get up and vacate his post. Now 68 year old Davey Johnson takes over, he of '86 Mets lore, and we are all left wondering if the Nats can leave the soap opera behind and keep their momentum rolling through the All Star break. I for one am rooting for this group because I hate to see a manager, or front office for that matter, determining the fate of a team midseason.
HR – And finally, what are the chances that the Pittsburgh Pirates can finish the season above .500? Currently the team sits at 39-38 and for a franchise that hasn't had a winning season since 1992, this is a remarkable achievement. Good luck Bucs! May the power of Batman be with you!