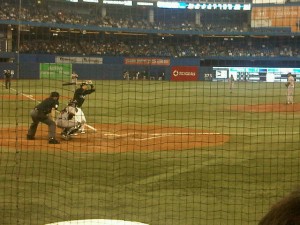 So much for the Rapture. 6pm Saturday night came and went without the Devil and Jesus shaking hands.  I guess it's time to start paying my bills again.
In all sincerity, I was truly amazed by how many people were discussing the End of Days. I mean, wasn't it just one guy spreading his message across the billboards of America? If it was truly the creation of a single man or small "flock" then I have to contact this group to do some advertising for VMS because they sure know how to create a buzz.
When 6pm passed without major incident, people in the bar where I was watching the Preakness began hugging and toasting one another as if Dick Clark just ushered in a New Year. Did they really think the world was going to end Saturday night or were they just looking for any excuse whatsoever to drink champagne?
For me, when I think "The Rapture" I don't think End of Days but rather A) the latest summer blockbuster starring Hugh Jackman and Nicole Kidman as a married couple awaiting the return of their son who is on leave from the war in Afghanistan or B) the name of a professional wrestler or C) Mozart's long lost final concerto. Also, any single one of these scenarios seemed like a much more likely outcome Saturday night.
A Quick Trip Around the Bases
1B – When I think interleague play I think Toronto Blue Jays vs. Houston Astros. But seriously, the only commonality between these two is that both teams come from oil rich lands. (Fun fact: Canada provides 20% of all US oil imports. Just a matter of time before President Obama declares war on our friends to the North.) Matchups like the Jays/Stros are bound to happen in the 14th year of interleague play. So for all the Red Sox/Cubs and Rangers/Phillies you have Twins/Dbacks and Mariners/Padres.
2B – It's possible, I repeat possible, that if Erik Bedard continues to pitch well the Seattle Mariners will contend for the AL West crown. Any team that sports a rotation of Felix Hernandez, rookie phenom Michael Pineda, and a rejuvenated Bedard has a chance to make it to the postseason, even with its putrid offense. As an Oriole fan, my feelings on the former Baltimore pitcher Bedard are quite mixed. He had some great seasons for a few very bad Oriole teams but the fans were still never able to totally embrace him, probably because he was perceived as distant, detached, and moody. Well that and he's Canadian.)
3B – Don't look now St. Louis Cardinals fans, but here come the 2011 Milwaukee Brewers, winners of 8 of their last 10 games. I had a good feeling about the Brew Crew heading into the season, which is why I selected Prince Fielder in the first round of my fantasy baseball draft. Add pitchers Shaun Marcum and Zach Greinke added to the mix and Brewers fans should expect their team to contend for the NL Central.
HR – News out of LA Sunday morning was that the police there were able to arrest at least on of the perpetrators involved in the beating of the SF Giants fan on opening day at Dodger Stadium. Here's hoping for some swift justice and a full recovery for Bryan Stow.